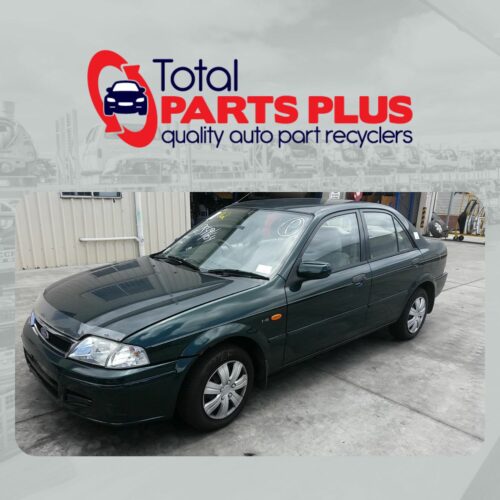 ---
Ford Laser Wreckers – Superior Quality Ford Laser Used Spare Parts
Ford Laser Wreckers Brisbane that folks trust can make a huge difference in your budget – and level of satisfaction – when it comes to buying the right car part you need. From the time you step into their shop (or search online for parts) to receiving the used car parts you need, it's all seamless and simple.
The last thing you need are complications, after all!
But not many people are aware of what Ford Laser wreckers have to offer. Some assume that since these are used parts they are getting, these are bound to break over time. The truth is that even new parts malfunction, break, and are rendered useless after serving their purpose. And the same holds true with auto recycled parts.
However, there's ONE striking difference between brand new parts and used car parts – the price point. The latter is obviously cheaper, while at the same time providing you with a reliable part that addresses whatever problem your vehicle is showing.
So, let's go right ahead and shed some light on why Laser wreckers are your more practical option and what your best option is when choosing your Ford wreckers.
Top Reasons To Buy Used Car Parts From Ford Laser Wreckers
Every Ford Laser owner can attest to the fact that this compact vehicle is quite reliable. It handles long distances very well without hiking up fuel usage and cost. Some even claim to have driven their Laser for over 15 years without the need to replace the gearbox and other components.
With a spacious interior, it should easily fit four passengers comfortably. Whether you take it for a spin on city traffic or out in the country, your Ford Laser will never let you down.
Some issues may happen every now and then, especially with older vehicles, but it's not the end of the world. With the right replacement part, your Ford Laser should be back on the road in no time.
Which brings us to these reasons why you are better off buying used Ford Laser spare parts from trusted car wreckers instead of shelling out hundreds of dollars for new ones.
1. Car wreckers offer a more practical choice for you.
Buying car parts is a bit of a nightmare for some people. They drive to a dealership with the hopes of bringing home that auto part they need, only to walk away in vain. Let's face it – there are some rare parts that you can't easily or quickly find at a shop.
On the other hand, Ford Laser wreckers have virtually every used car part that a Ford Laser spares seeker needs. From engines to transmissions and smaller parts, you are at a better luck of finding what you need from a car wrecker.
This saves you from all that driving around since these shops are easily a one-stop-shop for that prized auto part.
2. Trustworthy Laser wreckers have the expertise.
If you happen to be at a reputable car wrecker shop in town, you can count on the decades of professional experience and expertise of the staff. They can easily answer your questions and help you find just the right car part you need – no more going through this whole ordeal in circles.
Everyone's busy. You have a dozen things to do, and the last thing you want is to spend a huge chunk of your precious time searching for that car part like a needle in a haystack. When you go to a trustworthy car wrecker, just ask for assistance and they will hand you just the perfect part you require in minutes.
There are also some that have a website with a huge inventory of products on their database. Simply conduct your online search to locate that car part or even give them a call for professional assistance. That's a huge time and energy-saver for you since you go straight to the experts.
3. You are doing your part to help the environment.
It's easy to think that when it's "out of sight, it's out of mind"… Right? But the fact remains that there are tonnes of used car parts in landfills, which could have easily served another purpose only when given the chance.
This is what car wreckers do – they help minimize wastes through auto recycled parts that they sort, clean, and test to ensure your satisfaction. There are stringent processes applied before these items get on the shelf, so once you have it in your hand, you have the guarantee that it's in perfect working condition.
When you support these folks who do such marvelous things for the environment, doesn't it also make you feel good about yourself? Instead of adding to the problem, you are becoming a part of the solution.
How To Find The Best Ford Laser Wreckers Brisbane Folks Trust
Now that you know why you should consider buying quality used Ford parts instead of brand new ones, this may bring you to the next question: Which one should you go to?
There are dozens of car wreckers in and around Brisbane. But that fact itself is a good thing since they are all doing their job to save the environment while providing a cheaper and more practical option for people like you who need the right spare parts.
But do yourself a favor by searching for only the most reliable wrecker for you. Here are some pointers to consider:
1. Professional Experience
How many years has that car wrecker in question been in business? 10 years? 20 years? Or more?
Look for one that has decades of professional experience as an auto wrecker. Total Parts Plus has over 40 years of experience in the car wrecking business, so you can be sure they are reliable, trustworthy, and dependable experts that you need.
2. Reputation
You can tell so much from a business by what customers are saying about it. A business can't last long in its operation if their products and services are sub-par. At the same time, you want to search for prestige signals that give you extra confidence in what a company does.
At Total Parts Plus, we take pride in being one of Brisbane's leading passenger car, SUV, 4×4 and commercial wreckers of choice. We are also a part of the largest auto recycling group in Australia and with industry-trained staff to assist you.
Moreover, we are a Capricorn-preferred supplier, which means we cater to numerous customers in search of the highest quality of products they need.
3. Convenience
And lastly, consider the level of convenience they offer. Do they have an online shop that spares you from having to drive to their physical store? Do they deliver promptly? Is it possible to talk to someone on their team in case you need further assistance? And most of all, do they offer a warranty to their products?
Total Parts Plus ticks all the boxes relating to your convenience and peace of mind. We have stock parts for all makes and models and high-quality auto recycled parts including tailgates, engines, doors, transmissions, taillamps, power door window switch, door mirrors, headlamps, and more.
If you cannot find the part you need, please let us know and we will take care of finding one that meets your criteria and budget.
This is our way of offering total satisfaction to all our customers – and a money-back, no-fuss guarantee to all our products.
Find The Best Spare Parts You Need
At Total Parts Plus, your satisfaction is our utmost priority. So, if you need superior-quality Ford Laser spare parts that fits your budget and criteria, please feel free to visit our Total Parts Locata online.
You can also send us an email enquiry or call us for further assistance. We look forward to serving you!