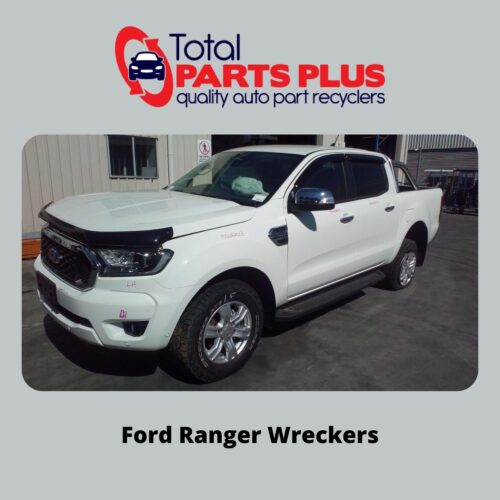 ---
Ford Ranger Wreckers – Selling Quality Ranger Spare Parts
The Ford Ranger is one beast of a truck, but even the best of  cars can break down and that's where a Ford Ranger Wreckers can help.   
With a robust engine, huge power and torque, and superb hauling and towing capabilities it' not surprising that the Ford Ranger is one of the most popular SUVs in Australia and around the world.
But some good things do not last forever, unfortunately. Even for something like a Ford Ranger that's built like a tank. And so, when it breaks down, you find yourself at a crossroad – should you source your spare parts from a Ford Ranger wrecker or go to a dealership?
You may be wondering if a car wreckers is even worth your time and money. If you happen to find yourself in need of spare parts for a Ranger, should you head straight to your dealership or give a Ford Ranger wrecker a chance?
With the skyrocketing prices of used Ranger parts, your practical self may be wondering if wreckers are a good idea. There are pros to using these types of businesses, so let's take a look at some of the benefits of using a car wreckers to help you decide what the next best move is.
Benefits Of Brisbane Car Wreckers
1.  Reputation
There are many reasons as to why you should consider dealing with Total Parts Plus for your Ford Ranger spare parts?
Top quality parts at competitive prices.

Large inventory of stock with new stock arriving daily.

No Fuss money back guarantee.

All parts covered by a real warranty.

Australia Wide Delivery.
Total Parts Plus, is one of the leading Ford Ranger wreckers in Brisbane, with a vast selection of auto recycled parts for this make and model. These include:
Engines

Headlamps

Guards

Transmissions

Doors

Tailgates

Door Mirrors

Taillamps

Power Door Window Switch
These are just some of our top-selling Ford Ranger spares. As these are also the most in-demand used car parts for this model, dealing with a wrecker that has access to such a large inventory of stock increases you chances of finding the part you need. You can even search our shop online, it's a convenient way to find the perfect quality used Ford Ranger car parts you need.
With a huge inventory database and massive inventory of stock on site and access to stock – Australia wide – you can be confident we will do all we can to help you find the part that you need to get your Ford Ranger fixed.
2.  Expertise
Another great thing about heading over to Ford Ranger dismantlers spares is the expertise.
When it comes to specialised knowledge and skills about auto recycled parts our clients need, Total Parts Plus take pride in our over 40 + years of experience and expertise in the industry.
Our industry trained staff and professional auto wreckers make sure that every item we have on shelf is of pristine quality for your total satisfaction. All parts are cleaned, inspected and tested by our experienced quality controller.
We have stock parts of all makes and models, so this increases your chances of findings the part you require for your vehicle. Plus, we have new stock arriving each and every day.
3.  Reliability
Ford Ranger secondhand spares are difficult to find unless you come to the right place. And what's the right place, you may ask? As long as the Ford Ranger used spare parts seller is reliable and trustworthy, then you are in good hands.
Total Parts Plus is a Capricorn preferred supplier and one of Brisbane's leading passenger car, SUV, 4×4, and commercial wreckers. As a family-owned business that has been around for decades, you can count on our sterling quality of service to all our clients.
Moreover, at Total Parts Plus, you can count on the following benefits:
Used/secondhand parts are as good as new.

We recycle all parts that are in good working order and suitable for resale.

Reasonable prices.

Brand new car parts can be expensive.

Shopping around and getting a second hand part is worthwhile.

Recycled parts work just as well as new and fit the budget.

Saves the environment by reducing landfill, parts get a new lease on life, more parts are kept in circulation.

Quality near new replacement car parts.
There are many Ford Ranger wreckers to choose from, but you want to deal with reputable wreckers that have years of experience. Total Parts Plus have been around for more than 40 years and provide nothing but top-quality auto recycled parts to all our clients.
We pride ourselves in being a used ford ranger car part specialist. If we don't have the part in stock we will track it down for you and take the stress out of finding the part you need. No questions asked.
Leading 4×4 Ford Ranger Wreckers In And Around Brisbane
Currently, we offer three local delivery runs in Brisbane and interstate shipping every day. So, you can expect your orders to arrive in a few days.
This is why Total Parts Plus is not only one of Brisbane's finest; Ford Ranger spare parts Queensland vehicle owners trust us, as well.
Specialising in Ford Ranger wrecking, you can count on us to give you nothing but the finest quality used Ford parts.
Total Parts Plus is indeed the best place to find Ford Ranger car parts. We take the worry out of finding the part you need, so that's one less job for you to do.
As your Ford wreckers of choice – and the choice of many vehicle owners in and around Brisbane, we can be sure that we got your needs covered – anytime and anywhere.
Search out online Total Parts Locata for used Ford Ranger parts for sale to get your vehicle fixed ASAP. We are your 4WD wreckers that give you nothing but the finest products at a fraction of a price. Send us an enquiry today by calling us or contacting us via email.