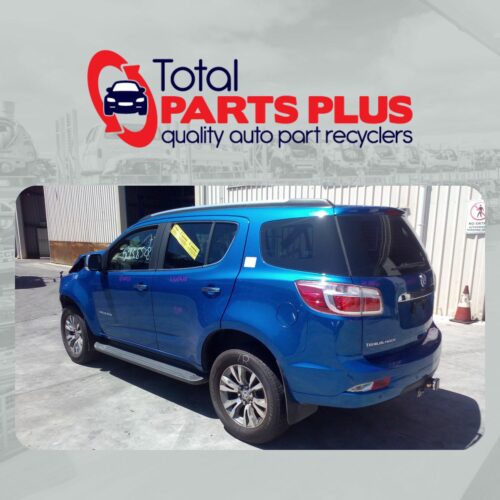 ---
Holden Trailblazer Wreckers – Auto Parts Supplier – Quality Used Car Parts
Are you in search of Holden Trailblazer wreckers in Brisbane that you can trust? Buying used car parts is not always a simple ordeal. There are many things to look for, which complicates the matter.
Plus, you need to comb through your options for car wreckers. It is always good to know what you are searching for to avoid any regrets. So, how do you possibly begin?
There are so many things to consider when choosing the right auto wreckers. This is why we are here to help you out! We will share the nitty-gritty of it all and guide you in choosing the best wreckers in town.
Buckle right up and keep reading this post to learn more!
Benefits Of Buying Parts From Holden Trailblazer Wreckers
Holden Trailblazer is an efficient vehicle with a robust engine. It is a heavy duty vehicle that does the job well. This is why it is one of Australia's top-selling vehicles.
However, there is a point in your Holden Trailblazer's life when problems come along. So, a part replacement may be required. If you need replacement parts for your vehicle, consider choosing used car parts. You are getting more benefits than you can ever know by doing so. Here are some:
Money savings
Brand new parts are expensive. That is a fact we can all agree on. But you do not have to buy parts brand new to repair your vehicle. There is a more cost-effective option to consider.
Used car parts come with a more reasonable price point. In fact, you can save several dollars by choosing recycled auto parts. This is why it is worth choosing used Holden Trailblazer parts for sale over brand new.
Reliability
Now, not many people think that recycled auto parts are reliable. After all, they are no longer at their prime. But is that really true?
This is one of the most common assumptions people have about used car parts. But it cannot be farther from the truth. In fact, recycled parts work just as well as brand new. They are reconditioned to serve their purpose.
At Total Parts Plus, we recycle all parts that are in good working condition and are suitable for resale. All parts are cleaned, inspected and tested by our quality controllers. This is why they are good as new. Whether you need used engines, transmissions, doors, door mirrors, and more, we got them all.
Plus, here is another fact – brand new parts also break sooner than later. With their higher price point, why should you default to choosing them? Quality used car parts are just as good and cheaper, too!
Eco-Friendly
There is an increasing concern with landfills all over the world. So, if you could do something to help reduce this issue, that's great!
When you buy used car parts, this saves the environment more than you ever knew. This reduces landfills as old parts get a new lease on life. More parts are kept in circulation instead of taken to landfills.
On the other hand, buying just brand new parts means used car parts are discarded right away. So, brand new only increases the issue with landfills. This is why it is always practical to go with an eco-friendly choice.
Convenient
Unlike what many people think, buying used auto parts for the Holden Trailblazer is convenient. It is not overwhelming or confusing – depending on where you buy parts from.
At Total Parts Plus, we take the stress out in buying used auto parts. In fact, we are the best place to find Holden Trailblazer car parts – even rare ones! We are a used Holden Trailblazer car part specialist. Just use our Total Parts Locata online to start with your search. We will make sure that you find what you need.
But if we don't have the part in stock, we will track it down for you. We take the stress out of finding the part you need. Then, we will notify you once we have it ready. Simple as that!
Time and energy saving
Buying used auto parts can also save you time and energy. When you go to the right car wreckers, you can get the best return on your investment. This is why it is good to know where to buy parts from.
For example, Total Parts Plus makes it quick and easy to search for parts online. Once you have found what you need, we will deliver it for you. We have three local delivery runs in Brisbane and interstate shipping everyday. Thus, you can quickly receive your order.
Holden Trailblazer Wreckers In Brisbane You Can Trust
Considering these numerous benefits of buying used car parts, it makes perfect sense to choose wreckers for your needs. Here are pointers to keep in mind when you make your search:
Experience and expertise
Choose Holden Trailblazer wreckers Brisbane folks trust. This includes industry experts and experienced wreckers. Total Parts Plus has more than 40 years of professional experience in the industry. This is why you can count on us for quality service and products you need.
Bang for the buck
Total Parts Plus gives you the best value for your dollar. We offer quality products at a competitive price point. Plus, with our warranty, we make sure that you always get your money's worth. If you are unhappy with your purchase, we will send you a full refund – no questions asked!
Customer service
When you have questions or concerns, it is good to have a prompt response. This is one other thing that we provide at Total Parts Plus. You can reach out to us via email or phone if you have concerns or enquiries. We make sure that you get the best value for your money, time and energy each time.
So, what are you waiting for? When you need Holden Trailblazer wreckers you can count on, Total Parts Plus is here for you! Contact us today for your questions or concerns. Or start your search using our Total Parts Locata online. We hope to hear from you soon!