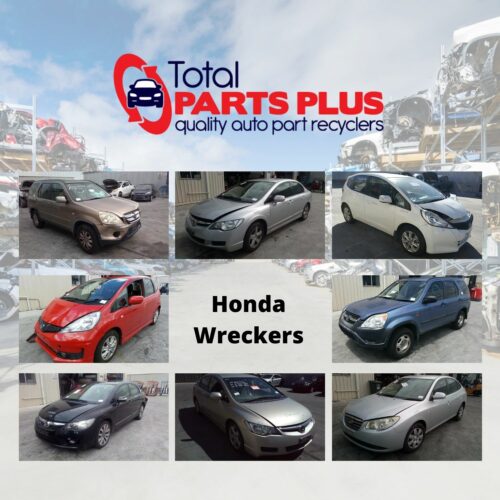 ---
Why You Should Buy Car Parts from Honda Wreckers in Brisbane
When emergency strikes, Brisbane Honda wreckers come to your rescue.
You could be stuck on the road because of an engine failure, or perhaps you have an issue with your headlamps that need urgent replacement…
Whatever car parts may require repair or replacement, you can easily find what you need from a reputable Honda wreckers and car parts seller.
Thanks to these reliable wreckers Brisbane has to offer, it is now much simpler and more seamless to get your car fixed. Moreover, they sell auto recycled parts at a decent price that suits your budget.
It is just a matter of knowing where to go and which wrecker to trust. Fortunately, in Brisbane, there are a few that have been around for some time. And today, we'll talk more about the benefits you can get from choosing the finest Honda wreckers for your vehicle.
Trustworthy Honda Wreckers in Brisbane
If you happen to be in Brisbane, or even in Coopers Plains or Queensland, the search for a quality used Honda parts dealer should be seamless.
Thus, if your second hand or brand new Honda car is showing symptoms of failure, you no longer need to worry about finding a suitable place to buy spare parts for it.
In fact, Total Parts Plus has been in the industry for years, making it your Honda wreckers of choice. As one of One of Brisbane's leading passenger car, suv, 4×4 and commercial wreckers, you can be sure that all used parts you purchase are of the finest quality and performance.
Here are 4 reasons why should skip the long search and head straight to this reputable Brisbane wrecker:
1. In-Depth Knowledge and Skills
The first thing you need to keep in mind when searching for a Honda wrecker is experience and expertise.
Not all wreckers in Brisbane can guarantee you of the quality you want. Thus, it is best to head straight to the experts in the industry.
Total Parts Plus has over 40 years of professional experience as car wreckers. This family owned business is managed by professionals auto wreckers. Hence, you can be sure that your vehicle is in good hands when you need top-quality spare parts for your vehicle.
In fact, our industry-trained staff is always ready to help you when you have any concerns.
Not sure which car part to buy? You can seek assistance from our knowledgeable team to help you out.
We are always ready to address your concerns and needs.
2. Proven Track Record
In addition to our years of professional experience as car wreckers, we have maintained our reputation from clients we've worked with for years.
Moreover, we are a Capricorn preferred supplier. This is a testament to our unparalleled service and product quality.
We also offer a warranty and a no fuss money back guarantee to every product we offer. As we stand by each item we offer, we make sure that you get your money's worth and total satisfaction.
3. Huge Inventory Database
Perhaps you have already given up on finding a spare part you need for your vehicle.
If you think that all hope is lost in finding the right part you need, do not give up – we may just have the thing you have in mind.
Total Parts Plus is a part of the largest auto recycling group in Australia. We have stock arriving daily – and these are stock parts of all makes and models.
Simply search our online Total Parts Locata, and you will be amazed by thousands of items we currently have on shelf.
Most importantly, these parts are cleaned, inspected and tested by our experienced quality controller. Hence, you can be sure that all of the products we offer have undergone strict and rigorous checks and tests.
We stock spare parts for a large selection of well-known Honda Models, including but not limited to
Accord

Civic

CRV

Jazz

HRV
Click here to see what cars we currently have on site.
4. Worry-Free Delivery
Lastly, we deliver straight to your home.
No time to drop by our shop? Simply send in your orders online, and we will deliver your preferred item right at your doorstep.
We currently offer three local delivery runs in Brisbane and interstate shipping every day.
You can have a look at some of the top selling auto recycled parts for Honda models we have on stock including:
Doors

Headlamps

Engines

Tailgates

Transmissions

Guards

Power Door window switch…

And more!
Brisbane's Most Trusted and Leading Honda Wreckers
It is never easy to find your wreckers of choice in Brisbane.
There are simply far too many options and overwhelming choices out there.
However, you can simply take note of these key pointers for choosing the best Honda wreckers in this part of the country.
Then, you can ease your worries knowing that you have made the right choice.
Give us a call today to learn more about our items and services that you need.