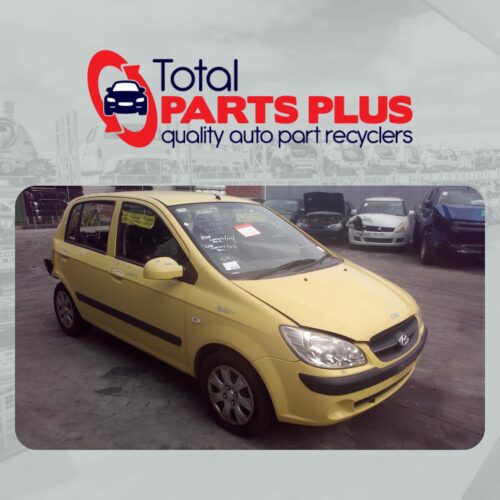 ---
Hyundai Getz Wreckers – Auto Parts Supplier – Quality Used Car Parts
Hyundai Getz wreckers take the stress out in finding quality used car parts on a budget. When you want to save on your purchase for car parts, used ones are always a good option. But it is all about knowing the pros and cons of your decisions.
Do keep in mind that there are always two sides of a coin. You need to weigh your options well to get the best results. Otherwise, you may only end up regretting your decision.
So, if you are on the fence about buying recycled auto parts, check out this post. Today, we will cover the pros and cons of buying used car parts. Find out what to expect from this option and which one you can trust for your needs. Let's get started.
Pros And Cons Of Buying From Hyundai Getz Wreckers
Hyundai Getz is one compact car. It does very well for city driving, and it has a decent engine to run for miles. But when your Getz is starting to show problems, it is time to get some parts replaced.
Should you buy Hyundai Getz secondhand parts? Or are brand new parts better? We have gathered the following benefits and drawbacks to buying used car parts to help you decide. Here they are:
Pros:
Cheaper cost
It is not a big surprise that Hyundai Getz used spare parts are cheaper. When you snag a good deal, that's great! You could definitely save a lot from a recycled auto part. It costs about a fraction of the typical price of brand new.
In fact, second hand lets you save hundreds or even thousands of money on parts. Whether it is an engine or a transmission, you can slash the price easily with used parts. Even if it is second hand, it does not mean it is worn out or damaged.
At Total Parts Plus, we come across Hyundai Getz spares that are close to mint condition. These have been salvaged from vehicles and written off for many reasons. Just be sure to get the part you need from a trustworthy wrecker.
With over 40 years of professional experience in the industry, we have the expertise you can count on. Our industry-trained staff is always ready to assist you!
Rare parts are not easy to find elsewhere.
If you have an older vehicle, finding replacement parts is not always too easy. This is why you may have a hard time getting it repaired. Some original manufacturers stop the production of these rare parts.
You may try to get it straight from the car company, yet the price can be quite steep. Moreover, there are extras to consider. You may need additional warranty and expensive labor fees to get the part installed.
On the other hand, you can easily find original parts from reputable car wreckers. Total Parts Plus is a member of Australia's largest recycling group. This gives us access to various parts – even rare ones. Moreover, we have stock parts of all makes and models. So, if you want to have all you need in one shop, that's Total Parts Plus for you!
Each part is cleaned, tested, and inspected by our quality controllers. This is why every item we have is suitable for resale. Our Hyundai Getz spares are good as new. You can get your repair work done quickly and seamlessly!
There are eco-friendly benefits to buying secondhand parts.
When you choose used car parts for your Hyundai Getz, you are making a sustainable choice. Instead of taking old parts to landfills, car wreckers give them a new lease on life. Most importantly, raw materials, energy and shipping costs are reduced. These are all needed to make new parts. But recycled auto parts eliminate the need for all of these!
If you need engines, transmissions, and other parts for your Hyundai Getz, Total Parts Plus got you covered. Please feel free to use our Total Parts Locata online tool to begin your search. This brings you to numerous results that you can choose from – and fast!
Cons:
It can be challenging to find used car parts.
If you have never bought from car wreckers before, the process may be intimidating for you. It is important to know key details for the part you need to avoid mistakes. Know the product specifications, model year, and so on. These are pertinent details to help you find the perfect match for your old car part.
Some car wreckers may be dodgy.
When buying recycled auto parts, make it a point to know the seller well. You want to be sure that it is trustworthy and reputable. Total Parts Plus has been in the industry for over 40 years. We are one of the leading wreckers in town and have served thousands of customers. You can count on our experience, expertise and reputation.
Hyundai Getz Wreckers You Can Trust
There are dozens of car wreckers in and around Brisbane. However, you need to make sure that you trust reputable Hyundai Getz dismantlers for quality used parts. This way, you can avoid getting scammed by unscrupulous businesses. Only choose car wreckers with a proven track record and positive customer feedback.
We take pride in our quality of products and services. With several years in the business, we have thousands of satisfied customers over the years.
No matter what car part you need, we have it all for you! Use our online search tool, Total Parts Locata, to start looking for parts you need. If you cannot find it, let us know. We will take the weight off of your shoulder and find it for you.
Give us a call or send us an email today. We are here to assist you with your concerns or enquiries. Please follow our Facebook page, as well, for more information. We update it regularly for new products coming in and their arrival dates. Get up-to-date information and find the best car parts for your money's worth!