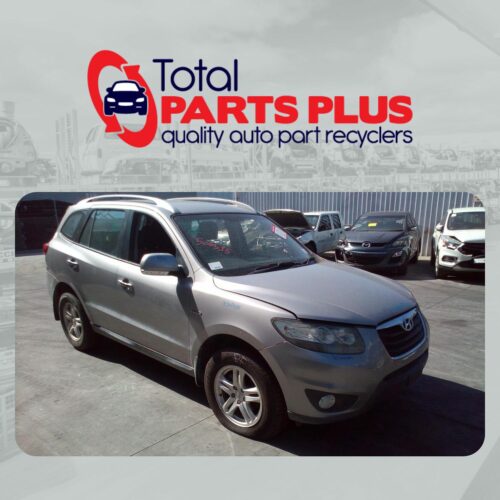 ---
Hyundai Santa Fe Wreckers – Quality Santa Fe Used Parts
For practical motorists, getting car parts from Hyundai Santa Fe wreckers is a no-brainer. With the affordability and convenience this offers, it is most certainly the best way to go.
After all, why spend on Hyundai Santa Fe used parts that are double the price at a dealership when you can get a good value from trustworthy and reliable car wreckers?
This is why it makes sense to be more prudent when it comes to purchasing spare parts, especially with the constantly rising prices and no guarantee that these won't break down at all in the future.
Today, we will explore the key reasons to head over to Santa Fe wreckers for used car parts and why it's a smarter choice.
Hyundai Santa Fe Wreckers Brisbane – A Smarter And Practical Choice
The Hyundai Santa Fe is a mid-size vehicle with a spacious cabin, classy appearance and comfortable interior overall. Although it is not at all athletic, driving a Santa Fe is fairly satisfying with its robust engine, ample infotainment technology and generous leg room.
But no matter how robust the engine may be, it is expected to break down at one point or another. When this happens, you may wonder where to get your required car part – from a dealership or a car wrecker?
When it comes to value for your money, convenience, and overall practicality, nothing beats purchasing used car parts from Brisbane car wreckers.
This may not be the default choice by some but if you're looking to save cash without compromising the performance of your vehicle, you can get a better value for Hyundai Santa Fe spares from wreckers, and here are several reasons why:
1. Used Second Hand Car Parts Are Good As New
Whether you need a new tail light, engine, transmission, or power door switch, you can easily find these from a reputable Santa-Fe wreckers. But just like with any business, not all wreckers selling spare parts for a Santa-Fe are created equal, so you need to be more cautious as you shop around for the best one.
Total Parts Plus remains to be the leading choice to buy Santa-Fe parts in Brisbane, Queensland, and nearby cities. We have industry-trained staff with 40+ years of experience in the industry. At our shop, all parts are cleaned, inspected and tested by our experienced quality controller.
We recycle all parts that are in good working order and suitable for resale. So, you can be sure that every part on the shelf has passed a quality check to give you the best value for your money.
2. Reasonable Prices
Let's face it – brand new car parts can be expensive. This is why shopping around and getting a second hand part is worthwhile. After all, recycled parts work just as well as new and fit your budget.
At Total Parts Plus, we offer competitive prices for our great quality Hyundai Santa Fe used parts. In addition to this, all our products are backed by a warranty. With our no fuss money back guarantee, you have nothing to lose.
3. Convenience Of Finding Santa-Fe Parts Under One Roof
It can be stressful going from one wreckers to another to find multiple car parts. Won't you rather just go to one Hyundai Santa second hand spares supplier and buy all that you need?
When you are pressed for time, then it is best to go to a Hyundai Santa Fe car part specialist that has all the spare parts you require to get your vehicle fixed. If you don't have the part in stock, Total Parts Plus will track it down for you and take the stress out of finding it. In fact, we have a vast selection of our top-selling auto recycled parts including:
– Transmissions
– Doors
– Headlamps
– Engines
– Guards
– Door Mirrors
– Power Door window switch
– And more!
You can find the quality used Hyundai parts that you need from us. After all, we have been specialising in Hyundai Santa Fe wrecking for decades, putting us ahead of the competition when it comes to professional experience and expertise in what we do.
4. Experts In The Industry
Reputable auto wreckers are what you need when buying the right auto recycled parts for your vehicle. This is why heading over to reliable Hyundai Santa Fe dismantlers is a smart choice.
Total Parts Plus is the best place to find Hyundai Santa Fe car parts. We have a massive inventory of stock on site and access to stock Australia wide. Moreover, we are a Capricorn preferred supplier and one of Brisbane's leading passenger car, SUV, 4×4, and commercial wreckers. Hence, you can be sure to find the best parts you need, and we also have stock parts of all makes and models.
5. An Eco-Friendly Choice
Not only is buying Hyundai Santa Fe secondhand spares cheaper, more convenient, and more practical. It is also a better choice for the environment. You are contributing to saving the planet by reducing landfill as parts get a new lease on life and are kept in circulation longer.
By purchasing quality used Hyundai parts from Total Parts Plus, you are doing your part to help recycle spares instead of going straight to the landfill. As we are part of the largest auto recycling group in Australia, you are guaranteed the best parts at excellent working conditions – at all times.
Total Parts Plus Your Hyundai Santa Fe Wreckers
With a huge inventory database, three local delivery runs in Brisbane and interstate shipping every day, and no fuss money back guarantee, there are plenty of reasons to choose Total Parts Plus for your Hyundai Santa Fe spare parts needs.
Search parts online via our Total Parts Locata and find the perfect parts you need today. Please feel free to join our Facebook page to stay up to date on when new parts are arriving on site and to learn more about our latest deals and promos.
Give us a call today or send us an email enquiry for all your concerns or questions. We look forward to hearing from you soon!