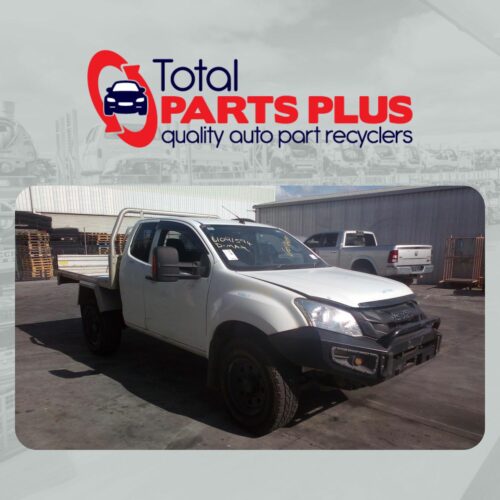 ---
Isuzu DMax Wreckers – Auto Parts Supplier – Quality Used Car Parts
The Isuzu DMax is a robust and dependable vehicle. But when problems arise, buying parts from Isuzu DMax wreckers is a sound decision. This is one of the best ways to save on your purchase and get a great bang for your buck.
If you have never bought recycled auto parts before, you may wonder what is good about it. Perhaps, you are worried about the quality. Or that used DMax parts may be inferior compared to brand new.
This is why today, we will discuss what to look for when searching for car wreckers. Find out how to start searching for DMax wreckers. Consider the tips we will share with you today – and which one is the best choice for you. Let's jump right into it.
How To Find Trusted Isuzu DMax Wreckers
Power and dependability are some key traits of the Isuzu DMax. It is an overall reliable truck for personal or commercial use. However, some issues may arise with it throughout its lifespan. A part may break or get worn out. And so, you need to buy the right Isuzu DMax spares to fix the problem.
If you want to save on your expenses, buying used car parts is a great idea. Not only will you save money but you can easily find the part you need. This is excellent for those who need rare, original parts for their vehicle. Brand new may not work when there are compatibility issues. So, it is always a smart idea to buy stock parts.
Now, if you are unsure about how to find the right Isuzu DMax dismantlers for you, here are some tips:
Do your research.
Not all professional auto wreckers are created equal. So before you give your money to a car wrecker, do your homework first. It can save you so much time and money by doing this.
A few things are important to note when doing your research. First, consider how long the wreckers have been in business. Are they reliable? What do customers say about them? Do they have a proven track record?
You want to be sure that the DMax wreckers in question are trustworthy. Buying Isuzu DMax second hand parts is tricky. The part needs to be compatible, of good quality, and can do the job well. This is why it is important to look for honest and trustworthy sellers of used DMax parts.
Total Parts Plus is a family owned business with over 40 years of experience in the industry. We are one of Brisbane's leading wreckers for trucks, SUVs, and passenger cars. With our years of expertise and experience in car wrecking, our customers trust and rely on us. Thus, we have thousands of new and repeat customers. Our mission is to provide nothing but the best for our customers' time and money. And we keep our word each time.
Wide inventory
Perhaps you need more than one part for your vehicle. Some parts are easy to find but others may be quite rare. Therefore, you should choose Isuzu DMax wreckers that have a massive inventory. This will save you from having to drive around to several shops.
Whether you need engines, transmissions, and other parts for your Isuzu DMax, we got you covered at Total Parts Plus. As a member of Australia's largest auto recycling group, we have access to several car parts. This is why we have a huge inventory database and warehouses Australia wide.
When it comes to quality stock parts for all makes and models, Total Parts Plus got it all for you. Simply head over to our website and use our online search tool. The Total Parts Locata makes it quick and easy to search for the part you need. This also gives you access to our entire inventory database. Searching for quality used Isuzu DMax car parts has never been this easy!
Responsive staff
There are times that you need professional assistance before you purchase car parts. Perhaps you have questions about the product or you are not finding what you need. Either way, it is important that the car wreckers are helpful.
When you have questions or concerns, you can reach out to our industry trained staff at Total Parts Plus. In fact, you can reach us in many ways – by phone, email, or through our Facebook page. Send us a message, and we will do our best to respond promptly.
Moreover, if you cannot find the part you need, let us know right away! We will take the weight off of your shoulder and do the search for you. Once we have the part ready, we will ship it to your address. This makes the process more seamless and more convenient for you.
Warranty
Everybody makes mistakes sometimes. Perhaps you purchased an incorrect part, or the item does not meet your needs. If so, it is good to make sure that the item is covered by warranty. This way, you do not end up wasting your time and money.
At Total Parts Plus, all of our products are backed by a warranty. We value your satisfaction, so we make sure you get a bang for your buck each time. If you are dissatisfied with your purchase, let us know. We will refund the full amount to you – no questions asked. This is another reason why our customers love doing business with us.
DMax Wreckers Brisbane Folks Trust
We understand how challenging and overwhelming it is to buy used car parts. There are many things to consider, which can take time and energy. But it does not have to be this way.
At Total Parts Plus, we make the entire process of buying recycled auto parts as easy as possible. Our Total Parts Locata is a quick and convenient online tool to search for parts. Furthermore, you can always contact us for further assistance if you cannot find the part you need. Then, we have prompt and reliable delivery service to make sure your item arrives quickly and in good condition.
Buying used Isuzu Dmax wreckers has never been this easy. Plus, we have stock parts for all makes and models. With everything under one roof, we definitely got you covered! Visit our website today and start your search for the part you need. Reach out to us anytime if you need help, and we are always ready to assist you!