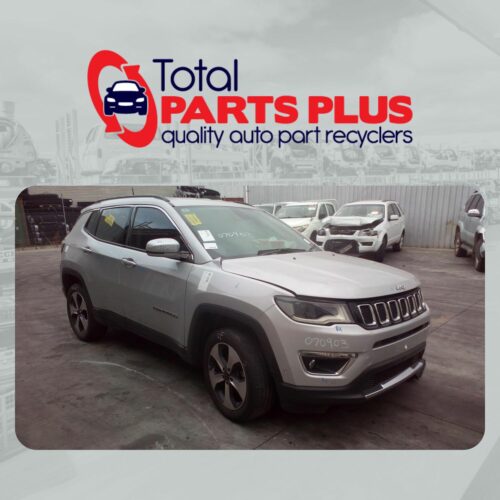 ---
Jeep Compass Wreckers – Auto Parts Supplier – Quality Used Car Parts
Have you ever wondered how you could save on your vehicle repair costs? Jeep Compass wreckers offer a cheaper way to acquire car parts. And most importantly, it is quick and easy! With a huge inventory database, you can find the car part you need. No more long wait times.
But at the same time, you may be wondering how to make sure you find a reliable car wrecker. After all, there are dozens of wreckers in Brisbane, making it confusing to find the right seller. They may also claim to be the best – and it is up to you to make sure they are trustworthy.
So how do you do this? What should you look for in Compass wreckers to trust? Keep reading to learn more about key factors to consider before choosing your Jeep wreckers. Let's dive right into it.
Important Things To Note When Choosing Jeep Compass Wreckers
Jeep Compass is a reliable SUV that can handle long distance driving. But as you know, no vehicle can last forever. Even with proper maintenance, car parts tend to get worn out and break. The Jeep Compass is not an exception.
With that being said, you would need to get certain parts replaced at one point or another. If you are seriously considering buying used car parts – good on you! This is a practical choice for your budget and convenience.
However, not all Jeep Compass wreckers are the same. There are good ones but there are better ones. It is a matter of making sure you work with the right one that meets your standards.
So, what are the things to look for when choosing the best Compass wreckers? Here they are:
Length of time in the business
Is the car wrecker in question a new business? Or has it been around for quite some time now? The longer a company has been in business, the more established its reputation is. Most importantly, businesses do not operate for years unless people trust them. This is why you should consider car wreckers with several years in the industry.
Total Parts Plus is a family owned business with over 40 years of professional experience. As professional auto wreckers, we specialize in what we do. In fact, we have industry trained staff to answer your questions or concerns.
When you need some clarifications before buying the item in question, ask away! We will help you make the right decision, so you do not end up regretting your purchase. Most importantly, we understand the value of time. So, we want to make sure that the time you spend on buying from us is always worth it.
Extensive selection of products
Perhaps you need to buy more than one car part. While some parts may be easy to find, others may be quite rare. This is why it is good to go straight to sellers that give you more options. So, you do not end up going from one shop to another.
Total Parts Plus has a massive inventory database of quality used car parts. We have stock parts of all makes and models and warehouses Australia-wide. As part of the largest auto recycling group in Australia, we have access to thousands of car parts. This is why we are able to sell quality used Jeep Compass car parts at our shop.
But if you are having trouble finding what you need, just let us know. We will take care of the search for you and have the item delivered to your doorstep. This way, you can ease your worries and receive your order conveniently. It is that simple.
Return policy
There are times when people make a mistake in their purchase. When buying Jeep Compass second hand parts, it is important to get accurate details. This way, you can avoid buying the wrong item.
Some wreckers may have a very strict policy and do not allow returns or refunds. So, you end up losing your money since you cannot use the item you ordered. It is important to make sure you can get a refund before you buy from a shop.
Total Parts Plus has a real warranty on all our products. No matter what part you purchase from us, rest assured it is covered by a warranty. This is why if you make a mistake with your order, just let us know. We will refund your money without any hassle.
But that is not all. If the item you purchased did not meet your needs or standards, our refund policy also applies. Just let us know the problem, and you can return the item and get a full refund.
This is one of the many things that our customers appreciate about us. We value the time and money you spend with us. So, we want to make sure that you always get your dollar's worth. With our seamless refund policy, you can ease your worries when you purchase from us. Rest assured that your purchase is completely risk-free each time.
Reliable Jeep Compass Wreckers In And Around Brisbane
Finding the right car wrecker for your needs takes a lot of research. It is one thing to make sure you get a cheaper deal but you need to know if the wrecker is dependable. You want to work with trustworthy wreckers where you get your money's worth.
Total Parts Plus is one of the leading commercial and passenger car wreckers in Brisbane. We serve customers in Brisbane, Queensland, and nearby areas. Whenever you need quality used Jeep Compass car parts, look no further. We have them all for you.
But that is not all. We have stock parts of all makes and models. This makes it highly convenient to purchase from us. No need to drive around from one shop to another. Just use our Total Parts Locata to start your search. Then, have your order delivered at your preferred address. It is that simple.
Give us a call today or send us an email if you have questions. You can also follow our Facebook page for regular updates on new products and arrival dates. We look forward to assisting you soon!