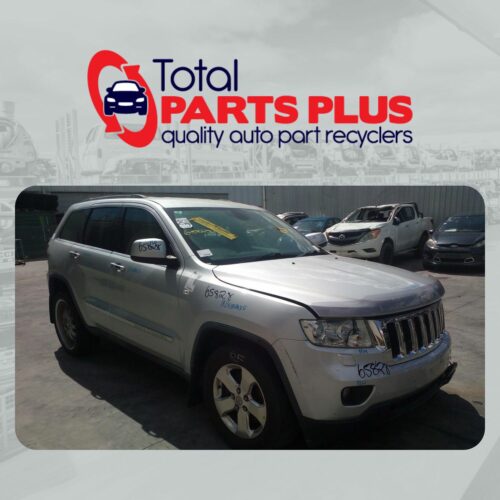 ---
Jeep Grand Cherokee Wreckers – Auto Parts Supplier – Quality Used Car Parts
When your vehicle breaks down, it is not just inconvenient. You also worry about the cost of getting it fixed. But if you go to Jeep Grand Cherokee wreckers, you can get a better value for your money. This is why practical folks choose this route instead of buying brand new Jeep Grand Cherokee auto parts.
But the question is, how do you find the right one you need? What are the things to look for in reliable Grand Cherokee wreckers? With so many options out there, it can get quite overwhelming. Plus, not all car wreckers are created equal. The last thing you want is to waste your time and money on inferior used car parts.
So, let's take a look at these tips on how to choose the best Jeep Grand Cherokee wreckers. We cover the most important factors to look into when searching for professional auto wreckers. Keep reading to learn more!
How To Find The Best Jeep Grand Cherokee Wreckers
Jeep Grand Cherokee is one reliable vehicle. It works well for commercial and personal driving. With a robust engine and sturdy components, you can count on this SUV to last a long time.
But as with any good vehicle, problems come along at one point or another. Throughout the lifespan of your SUV, some repairs may be needed. So, it helps to know the most practical way to get replacement parts you require.
Jeep Grand Cherokee wreckers offer a cost-effective way to buy recycled auto parts. But you need to look carefully before you buy. There are good car wreckers and better ones. Naturally, you want to make sure you choose only the best for your needs.
So, let us look at these tips on how to find the right car wreckers for you. Here we go.
Do your research.
There are plenty of car wreckers in and around Brisbane. However, this can make the search more overwhelming since you are surrounded with many options. Most importantly, you need to know more about the business before you buy from them.
The first step is to do your homework. Look into several car wreckers in town. You want to choose a business specialising in Jeep Grand Cherokee wrecking. Your Jeep wreckers of choice should have quality used Jeep parts. It is not enough that the price is cheap – it must be worth it.
Total Parts Plus is a family owned business with more than 40 years of professional car wrecking experience. Moreover, we are a Capricorn-preferred supplier offering only the highest quality recycled auto parts. This is why you can rest assured that every part we sell is the best value for your dollar.
Knowledgeable and skilled staff
Buying used car parts is a daunting experience. If it is your first time, you may not even know which one to buy. There are so many options and it can get confusing. This is why you need to make sure that there are professionals who can help you.
At Total Parts Plus, our industry trained staff are here to assist you. Got questions about a particular part? Just ask us, and we will provide answers to help you make a decision. You can even ask us what your best options are. This is particularly helpful for those who have never bought recycled auto parts before.
It helps to know more about the part in question before you buy it. Things like its history, specifications, and age are important aspects to know. This is why we are transparent in our answers. We want to make sure that you know what to expect from the product before you buy it.
Quality service
You want to buy used Grand Cherokee parts with the least level of stress as possible. For instance, searching for the part should be quick and easy. Once you have found what you need, it would be great to have it delivered promptly. And most importantly, a good refund policy is ideal. If you end up buying the wrong item, getting your money back quickly. Is a nice perk.
When you need quality used Jeep Grand Cherokee car parts, you can easily find it at Total Parts Plus. We have a helpful online tool called Total Parts Locata to assist you with your search. Simply enter basic information about the part you need, hit enter, and you will get quick results. It is that easy!
But if you are not finding what you need, let us know. We will take care of the search on your behalf. This takes the stress off of your shoulder. As a member of Australia's largest auto recycling group, we have access to thousands of quality parts. So, we can easily get the part you need. Just let us know via email or phone call.
Every product we sell at Total Parts Plus is covered by a real warranty. This is why if the item falls short of your expectations, let us know. We will send you a full refund – no questions asked.
Lastly, we have a prompt delivery service in place. We have three local delivery runs in Brisbane and interstate shipping every day. Whether you are in Brisbane, Queensland, and nearby areas, we can deliver your item at your doorstep. This makes buying from us more convenient and highly efficient.
Get The Best Value From Brisbane's Trusted Jeep Grand Cherokee Wreckers
Car maintenance is expensive. But it is inevitable to deal with repairs and part replacements. However, you can reduce your expenses by choosing used Grand Cherokee parts. Auto parts for Jeep Grand Cherokee are pricey when brand new. So, if you can find quality used car parts from reliable wreckers, that's a huge help for you.
Total Parts Plus is Brisbane's leading commercial and passenger vehicle wreckers. We have stock parts of all makes and models to suit your needs. Furthermore, we have stock parts arriving daily. This reduces the long wait time to get your vehicle fixed sooner than later.
Go ahead and send us an email or give us a call if you have questions. Or, start your search using our Total Parts Locata online tool. We have quality used stock parts to meet your needs. Check out our website or follow our Facebook page today to learn more!