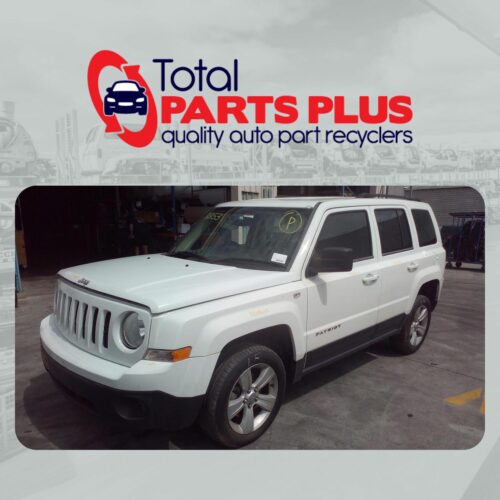 ---
Jeep Patriot Wreckers – Auto Parts Supplier – Quality Used Car Parts
Jeep Patriot wreckers are more beneficial to you than you can ever imagine. For those who have never bought used car parts, it may seem unbelievable. After all, many people assume recycled auto parts are just junk. But are they, really?
With such assumptions about used auto parts, you may be losing money by choosing a more expensive option. There are people who opt for brand new Jeep Patriot spares thinking they are getting a better deal. But what they think they know is costing them more.
So today, we reveal surprising benefits you can get when you buy used car parts from Jeep Patriot wreckers. These will amaze you – and it is more than just saving a few dollars. Let's dive right in.
Amazing Benefits Jeep Patriot Wreckers Offer
Everyone wants to get a bang for their buck. You want to make sure that your hard-earned money does not go to waste. And this applies, too, when it comes to car maintenance. If you need to get your Jeep Patriot repaired, you want to get the best deal possible.
Yet, we all know replacement parts are expensive. Well, at least good quality ones. If you opt for brand new stock parts, the price easily skyrockets. This is why it is good to find a practical route for buying replacement parts.
You may assume that purchasing used Patriot parts is an unwise decision. There is the assumption that these parts are just junk. After all, these came from old vehicles. However, what many people do not know is the value behind these. Let's enumerate the numerous benefits that come from buying used car parts.
Compatibility
When buying replacement parts, you may either buy stock parts or those made by third party manufacturers. Brand new stock parts are expensive, yet you can be sure they are compatible with your vehicle. Yet, third-party ones may or may not fit your needs.
But what if you could get stock parts without the steep cost? This is what you can expect from car wreckers. For instance, Total Parts Plus has stock parts of all makes and models. As expert Jeep Patriot dismantlers, we have original parts available. Whether it is an engine, transmission, and others, we have what you need.
All parts we sell have been cleaned, tested, and inspected by our quality controllers. This is why you can be certain that they are good quality. Since these are stock parts, there are no compatibility issues. And the best thing is they won't cost you an arm and a leg! Price-wise and value-wise you win.
Convenience
Some parts are easier to find than others. Rare parts can take you several hours or even days to find what you need. What if you need to get your vehicle repaired quickly? This certainly won't work if there is a long wait time. But it is sometimes the case with some parts that are more difficult to acquire.
On the other hand, finding quality used Jeep Patriot car parts from wreckers is quick and simple. Total Parts Plus has auto parts for Jeep Patriot in stock. Specialising in Jeep Patriot wrecking, we take the stress out in finding quality parts.
Additionally, we have an efficient online tool to help you with your search. Our Total Parts Locata is an online search tool that is easy to use. Just type in details about the part you need, and you can get results in seconds. This is much more convenient than going to a junkyard and combing through hundreds of parts.
Moreover, we offer a delivery service to add to your convenience. If you have no time to pick up your order, we will deliver it to your doorstep. With three local delivery runs and interstate shipping every day, we deliver promptly. Just sit back, relax, and wait for the item to arrive in just a few days.
Refund Policy
Some car wreckers offer a good refund policy. In the event that your purchase does not work, you can return it and get a refund. So, you do not end up wasting your time and money.
At Total Parts Plus, all of our products come with a warranty. We stand by the quality of every item we sell. This is why we offer a warranty for your peace of mind. If the item does not fit your needs, just let us know and we will give you a full refund.  You can rest assured that your money is never wasted.
Professional Assistance
Expert car wreckers can help you whenever you need assistance. If you have never purchased used car parts before, it helps to have specialists you can trust. Get your questions answered or have professional help each time.
Total Parts Plus is a family owned wrecking business with over 40 years of professional experience. We have industry trained staff that are always ready to assist you. When you have questions about a part, or any concerns at all, let us know. We make it a point to address any concerns you have as promptly as possible.
Also, you can let us know if you are unable to locate the part you need using our online tool. We will take care of the search for you. Then, once we have it ready, we will deliver it at your doorstep. It is that simple, quick, and easy!
Choose Brisbane's Trusted Jeep Patriot Wreckers
We realize the challenges in keeping a vehicle well-maintained. Additionally, we understand the steep costs involved in car maintenance and repairs. So, we are all about providing ways to help you save your time and money.
Total Parts Plus is your one-stop shop for quality used car parts. If you need 4WD wreckers to buy stock parts for your vehicle, that's what we're here for!
Some of the top selling auto recycled parts include (but not limited to):
Engines

Transmissions

Tailgates

Doors

Door Mirrors

Headlamps

Taillamps

Guards

Power Door window switch
We have stock parts of all makes and models including the Jeep Patriot. Most importantly, our competitive pricing helps you to meet your budget.
Start your search using our Total Parts Locata online tool. You can also give us a call or send us an email if you have further questions. We look forward to serving you soon!