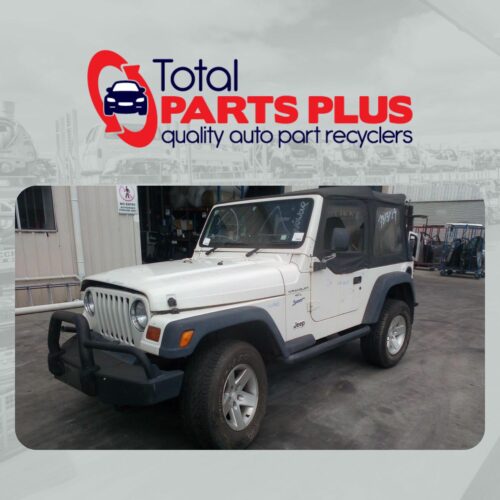 ---
Jeep Wrangler Wreckers – Auto Parts Supplier – Quality Used Car Part
It is never too easy to buy quality parts. So, if you could find quality cheap parts from Jeep Wrangler wreckers, that will meet your budget. But then again, it is not always too simple. There are so many things to consider before buying from car wreckers.
Sure, it is good to save money on car parts. However, you also want to be certain that you buy the right one you need. Plus, it has to be good quality that will actually work. Therefore, it is good to know the do's and don'ts when buying secondhand spares for your Jeep Wrangler.
Today, we will cover key points to do and avoid when purchasing from car wreckers. Find out what to look for and what to avoid to get the best bang for your buck. Let's get started.
Do's And Don'ts When Purchasing From Jeep Wrangler Wreckers
You may have realized how much you can save by purchasing used car parts. Some people are able to save hundreds of dollars by purchasing Jeep Wrangler secondhand parts. Yet, it is not always too easy. There are several things to consider before you put out your money.
Here are some do's and don'ts for you to keep in mind.
Do a thorough research about the business.
Simple things like the length of time in the business, services offered, and products available are important to know. You want to choose a car wrecker that has a reasonable length of time in the industry. This pretty much shows how well you can count on them for your needs. New businesses have less experience and fewer customers. So, if you can find an established car wrecker in town, then that's great.
Total Parts Plus is one of the longest standing car wreckers in town. We are a family business with more than 40 years of professional experience in the industry. This is why we have specialised skills and experience to meet your needs.
Our industry trained staff and professional wreckers have experience and expertise in what they do. This is helpful when you have questions that need to be answered. For instance, you want to know about the age, history, and background of a specific part. Ask away, and we will give you answers. Thus, you can tell whether the product suits your needs or not.
Don't settle for cheap and inferior quality parts.
Used car parts are definitely cheaper than brand new. But at the same time, you want to make sure that you get the best bang for the buck. What good is it to save money when you end up buying the wrong kind? Or perhaps the item does not even last long.
At Total Parts Plus, all parts are cleaned, inspected, and tested by our quality controllers. We make sure that these products are fit for resale. Hence, we make it a point that every used car part has met our strict standards. This is why every product we have on sale has been carefully checked prior to reaching our shelves.
When you need used quality engines, transmissions, and other parts for your Jeep Wrangler, you can count on us. These items have been carefully inspected by our professional wreckers to ensure their quality.
Do the best you can to learn more about refund policies.
Everybody makes mistakes. But if you could eliminate costly purchasing mistakes, that is great. Therefore, it is good to understand a car wrecker's refund policy before buying from them. By doing so, you can buy risk-free.
Some wreckers have a good refund policy in place while others don't. So, it is important to shop around and know exactly what you are getting into. Study their refund policy and know for sure if you are getting a full refund or not.
Many of our customers at Total Parts Plus choose us for a risk-free shopping experience. Every item we have on sale is backed by a real warranty. This is why there is no risk with your purchase. If the item is incompatible with your vehicle, just return the item and we will refund you. Our 100% money back guarantee gives you the peace of mind each time.
Don't settle for anything less.
Just because a product is cheap, that does not mean it is good enough. You want to make sure that it is worth your money. So, do your best to find out more about the car wrecker before you give them your business.
Total Parts Plus is one of Brisbane's passenger car, suv, 4×4 and commercial wreckers. We have warehouses Australia wide and a massive inventory database. When you need quality used car parts, we have what you need. In fact, we have stock parts of all makes and models. So, if you need the finest recycled auto parts for your Jeep Wrangler, we got you covered.
Moreover, we are a Capricorn preferred supplier. This is why you can expect the highest level of products and services from us. Plus, we are a part of Australia's largest auto recycling group. This gives us access to thousands of quality parts for various vehicle makes and models.
Brisbane's Trusted Jeep Wrangler Wreckers
Buying used car parts can be a tricky and overwhelming ordeal. However, this does not need to be the case. When you purchase recycled auto parts, you need to choose the right car wreckers.
Total Parts Plus is one of Brisbane's trusted and most established car wreckers. We got you covered when you need quality used Jeep Wrangler car parts.
Some of the top selling auto recycled parts include the following
Engines

Transmissions

Tailgates

Doors

Door Mirrors

Headlamps

Taillamps

Guards

Power Door window switch
We also make sure that you find the part you require in the most convenient way possible. Thus, we have a helpful tool to get you started. Use our Total Parts Locata to start your search today. And if you need assistance, please feel free to give us a call or send us an email. We are here to make your overall experience easier and more convenient.
Finally, be sure to follow us on our Facebook page to get updates on new stock arrivals. We look forward to serving you soon!