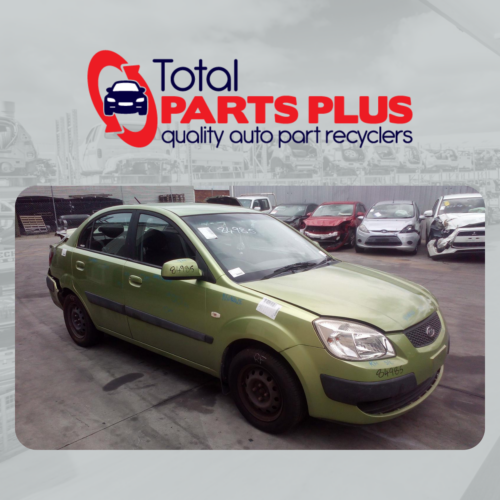 ---
Kia Rio Wreckers – Selling Quality Kia Rio Used Spare Parts
It is no surprise that buying used auto parts from a car wrecker is cheaper than purchasing brand new. But other than the cheap price, there's a lot going for Kia Rio wreckers that you may not know about.
If you are looking to buy car parts – brand new vs used – to get your vehicle fixed but still on the fence whether to choose a Kia Rio wreckers, then this can help you know both sides. Find out what auto recycled parts to buy and how to choose the best value for your time and money.
Let's get started.
Kia Rio Wreckers – Parts You Can Buy
First of all, the Kia Rio is a reliable subcompact sedan and hatchback. It offers an upscale design for the cabin with decent space for passengers. There is also some storage space for luggage. The infotainment controls are straightforward, and there are safety features included at the same time.
When you find yourself in a situation where your car needs replacement parts to get it back in the best condition, then you may be wondering if it is worth purchasing used quality Kia Rio parts.
Thankfully, there are Kia Rio wreckers Brisbane people trust such as Total Parts Plus. Here, you can find many top-selling auto recycled parts including – but not limited to – engines, transmissions, doors, tail lamps, headlamps, power door window switch, and tailgates.
Before putting parts on the shelf, the Total Parts Plus team make sure they are cleaned, inspected, and tested. This is why you can rest assured that every item available meets the high level of standards
Finding Car Parts From Professional Auto Wreckers
If it is your first time buying from Kia Rio wreckers, you may find it overwhelming and unsure of the first step to take.
Here are the basics to get you started, so you can be certain that you get the right item and at the best price you want.
Enquire
First things first – you must be sure that the wreckers have the specific Kia Rio spare parts you need.
Make an enquiry by contacting us by email or over the phone and speak to our industry trained staff about the part you need.
We are here to help you pick the correct car part for your Kia Rio.  All you need to do is to shoot us a message to get things started. Alternatively, you can also visit our website and use our online Total Parts Locata, if you prefer to do your search yourself.
In the event that you are unable to find the part you need, simply let us know, and we will take the load off of your shoulders by searching for this part on your behalf. Then, we will contact you once we have it available. We will have it shipped and delivered to you for your total convenience.
Some people know right away what parts they need while others are still uncertain. This is why we encourage you to contact us for professional assistance. We are always eager to serve you to make sure that you get the best bang for your buck.
Proceed
If you are pleased with the information, you have gathered and you are certain that the specific part you need is available, then you can go ahead to make your purchase.
It is good to know, however, if there are warranties offered, and what deliveries are available for a more convenient shopping experience.  It is also good to know what parts are stocked, just in case you need parts in the future.
More than the reputation and expertise of the car wrecker, these are also helpful pieces of information to know. Once you have the details you require and answers to these questions, you can proceed to making your purchase.
Assess
Once you have received the item, you need to make sure that it is compatible with your vehicle. Perhaps, it is not the exact model you require. Or it could be an original part, yet you are not certain if it will work for your needs. This is why it is good to study the part well and check its compatibility with your vehicle.
At Total Parts Plus, we sell authentic car parts that are in good working condition. We are a member of the largest recycling group in Australia.  We are also one of Brisbane's leading passenger cars, commercial, SUV, and 4×4 car dismantlers. With over 40 years of professional experience in the industry and hundreds of new and repeat customers, you can rest assured of the level of quality products and services we provide.
If for some reason you are not quite satisfied with your purchase, or the item does not match your need, you can contact us for a full refund of your money. All of our products come with a warranty, which is why you can have peace of mind that every purchase is risk-free.
Kia Rio Dismantlers In Brisbane You Can Trust
We understand how tedious and challenging it is to buy used car parts. There are more things to investigate such as the reputation of the car wreckers, services offered, warranties and delivery options.
At Total Parts Plus, you can rest assured knowing that our parts have been cleaned, inspected, and tested. We take great pride in our products and the quality.
Have a look at spare parts available today!  We encourage you to follow our Facebook page for updates on new stocks' arrivals. Meanwhile, please feel free to go online and search parts now or give us a call for further assistance.