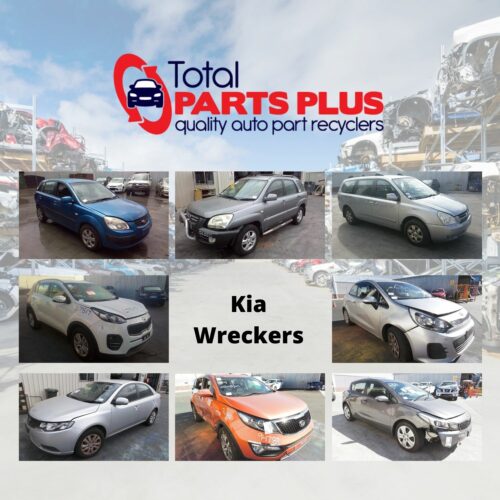 ---
Save Time & Money With the Best Kia Wreckers in Brisbane
When buying spare parts, Kia wreckers can offer a huge difference in savings and time.
During an emergency break down on the road, or perhaps an unexpected need to replace some car parts, your choice between buying brand new and auto recycled parts depends on your budget.
The decision largely depends on how you want to square your priorities with the price point offered.
For instance, brand new is expected to perform well. However, it is also a more expensive option.
Additionally, there is no guarantee that brand new will never break down.
Thus, it is practical to choose a cheaper, yet reliable option for your car parts. And this is where your Kia wreckers of choice can make a difference. Let's discover why it makes sense to buy quality used Kia parts and what's in it for you in the long run.
Kia Wreckers – A Smart Choice for Auto Spare Parts?
There are two things that you want when buying spare parts: Something that's reasonably-priced and performs well.
Can you expect these from auto recycled parts?
Definitely yes!
Reputable Kia wreckers and car parts sellers do not merely sell spare parts; they make sure that the items you purchase meet your needs and expectations.
This is why it makes sense to carefully check all wreckers Brisbane has to offer before you make a decision of choosing the one for you.
Save Money on Mechanical Repairs
Used spare parts – either aftermarket or OEM – can significantly bring the cost down when you need repairs and replacements under the hood.
But it is important that the car parts you purchase are carefully inspected, tested, and warrantied. Moreover, these parts are reverse-engineered, so they are even better in terms of performance than the OEM version.
At Total Parts Plus, for example, our industry trained staff makes sure that all parts we receive at our shop are cleaned, inspected, tested, and assessed by our experienced quality controller.
Our professional auto wreckers will make sure that these parts are indeed on par with how brand new parts perform – but at a fraction of the cost.
As a result, you can save on your repair expenses without compromising the value and performance of your Kia car.
Superior Quality Assistance
Kia wreckers have a wide range of car parts in their huge inventory database. Hence, you should easily find the right auto part that you need.
In fact, Total Parts Plus is one of Brisbane's leading 4×4, commercial, SUV, and passenger car wreckers. As a part of the largest auto recycling group in Australia, our family owned business of over 40 years experience is the leading wrecker in this part of the country.
We have stocks arriving daily and our stock parts of all makes and models are widely available for your needs.
Additionally, we stock spare parts for a large selection of well-known Kia Models, including but not limited to:
Carnival

Cerato

Rio

Sorento

Sportage
Are you not finding what you need? Please click here to see what cars we currently have on site!
Furthermore, we are a Capricorn preferred supplier. This is our testimony of excellence in every product and service we provide to our customers.
Warranties and Guarantees
Another impressive thing about Kia wreckers is the warranty they offer.
Naturally, you want to make sure that you get what your money's worth with every purchase you make.
This is why at Total Parts Plus, we offer a warranty to all our products. Each item comes with a no fuss money back guarantee for a risk-free purchase.
Therefore, you can expect total satisfaction and peace of mind when you buy from us.
One-Stop-Shop for Your Car Part Needs
Why go from one spare parts shop to another when you can get everything you need under one roof?
This is what Total Parts Plus is all about – we  have all the right parts for your Kia vehicle and in pristine condition!
As you head over to our online Total Parts Locata, you should be able to find the perfect one you need. For example, some of the top selling auto recycled parts for Kia models are:
Guards

Transmission

Doors

Engines

Door Mirrors

Power Door window switch

Taillamps

Headlamps

Tailgates
We also offer three local delivery runs in Brisbane, as well as interstate shipping to Coopers Plains and Queensland every day! Now, you can expect to receive the item you have purchased with us online in just a few days. It's convenient, fast, and seamless.
Total Parts Plus Kia Wreckers – A Smart & Practical Choice
The benefits you can get from the best Kia wreckers in Brisbane are endless.
From cutting costs to saving time and energy, your satisfaction is guaranteed at all times.
So, please check out our website today or drop us a message to learn more about our featured items and stocks today!