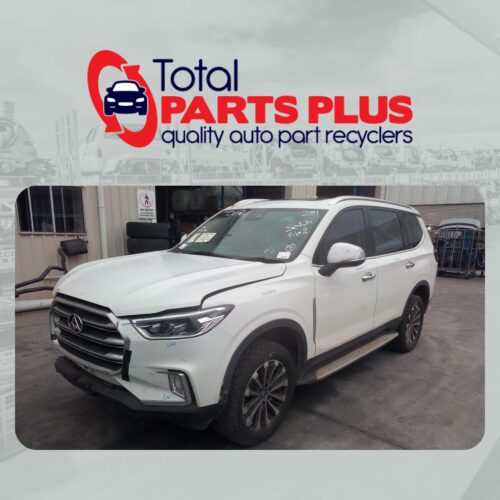 ---
LDV D90 Wreckers – Auto Parts Supplier – Quality Used Car Parts
Have you been searching for car parts to fix your LDV D90 but without any success? If so, then LDV D90 wreckers should be able to help you out! You can forget about the long and tedious search for quality parts. All you need is a reliable car wrecker selling used D90 parts to meet your needs.
But perhaps you are still on the fence about it. After all, D90 wreckers offer recycled auto parts, so why should these be better than brand new? Junk yards only sell junk… Right? Well, not at all.
This is a common misconception people have about car wreckers. They think that because they deal with wrecked vehicles, the parts are also inferior. However, this is not the case at all. These are nothing but assumptions that are actually quite false. There is more to car wreckers than what many people assume. In fact, they offer a much better deal for your time and money.
So, if you have not tried buying auto parts for a D90 from LDV D90 wreckers, check out this post! Today, you will learn more about the reasons to buy used car parts. And most importantly, where to go for quality used car parts in and around Brisbane. Let's jump right into it.
Great Reasons To Buy Parts From LDV D90 Wreckers
Have you considered buying used car parts for your vehicle repair? Perhaps you have not tried it before and have been hesitant to do so. But did you know that there are actually so many benefits to choosing recycled auto parts?
These are some of the amazing reasons to choose LDV D90 wreckers for car parts.
It is much cheaper than brand new.
This is a no-brainer. D90 wreckers offer a much cheaper alternative to brand new car parts. In fact, you can easily slash the price by 50 percent or more. Whether you are buying an engine replacement for your car or other parts, the cost of used parts is cheaper. With the skyrocketing prices of anything nowadays, you would definitely want to save some money. And what better way to make it happen than by choosing recycled auto parts.
Total Parts Plus offers quality used LDV D90 car parts at competitive price point. Some of the top selling auto recycled parts
Engines

Transmissions

Tailgates

Doors

Door Mirrors

Headlamps

Taillamps

Guards

Power Door window switches
So, go ahead and search our online Total Parts Locata today. Find out more about the parts we have in stock that will meet your needs.
Quality parts you can trust.
We understand that it is not just about the money – the quality should also be good. This is why it is important to choose your LDV wreckers wisely. Not all D90 wreckers are created equal. Some are good but others are even better. So, you need to do your research carefully.
When it comes to trustworthy wreckers, Total Parts Plus is one of the finest you can count on. We are a family business with more than 40 years of professional experience in the industry. In fact, we are one of the leading commercial and passenger car wreckers in Brisbane. All parts are cleaned, inspected and tested by our experienced quality controller. Hence, you can rely on the quality of each part you need.
Easier access to used car parts.
Car wreckers provide a more efficient way of buying used parts for your LDV D90. Unlike brand new part sellers, the stock is often limited. There are even parts that are no longer produced by manufacturers. This is the case with old models, which have hard-to-find spare parts. So, you may end up waiting for several weeks or months just to find what you need.
On the other hand, car wreckers have access to more LDV D90 spare parts. For instance, Total Parts Plus is a member of Australia's largest auto recycling group. We have stock parts of all makes and models. But most importantly, we are expert LDV D90 dismantlers. Thus, you can find parts you require more efficiently.
We have a massive inventory database. When you use our Total Parts Locata online search tool, you get results immediately. This adds to your convenience in buying car parts. Instantly, you can get relevant results to your search. How efficient is that?
Lastly, these are original, stock parts. This is why there should be no compatibility issues with your vehicle unlike with auto parts by third-party manufacturers.
Value for your money
Getting good savings is not enough. You also want to have a warranty from your purchase. This is important in the event that the item does not match your needs. Having the ability to return it and get a refund matters.
Total Parts Plus offers a real warranty on every product we offer. This is our way of taking customer service to the next level. With our money back guarantee, shopping for parts from us is risk-free.
If the item does not match your needs, let us know. You can simply return the product and get your full refund. No questions asked!
Bang for your buck.
Overall, car wreckers offer the best value for your dollar. Not only are used car parts cheaper, but the great customer service you get adds up. This is why you need to search for the best car wreckers in town. Never settle for anything less.
Total Parts Plus has the most competitive rates available. We also offer a warranty on every item, and a full guarantee for your dollar. In case you cannot find what you need, let us know right away. We will take the weight off your shoulders and do the search for you. Then, we will inform you immediately once we have it in stock.
At Total Parts Plus, you can also choose to have your order delivered at your doorstep. We have three local delivery runs and interstate shipping every day. So, there is no long wait for you to receive your item. You can also follow us on Facebook to learn more about new stocks and their arrival dates.
Value For Your Money At Total Parts Plus
Shopping for used car parts does not have to be a difficult ordeal. At Total Parts Plus, you can easily find the LDV D90 auto parts you need. Simply check out our website and use the Total Parts Locata search tool to begin.
Please feel free to call or email us if you have any questions or concerns. We are always ready to give you the assistance you need!