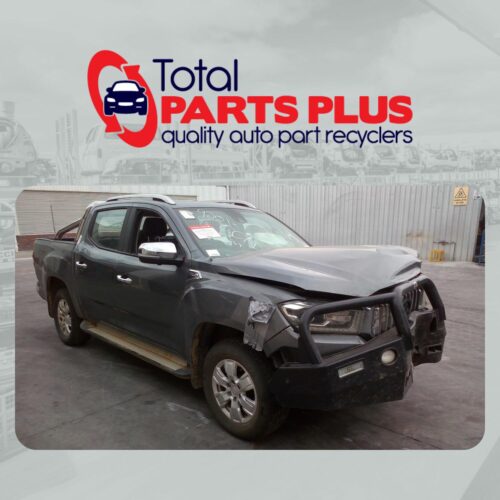 ---
LDV T60 Wreckers – Auto Parts Supplier – Quality Used Car Parts
Do you wish you could take the stress out of buying car parts? LDV T60 wreckers make this possible for you! It is just a matter of knowing which one to choose. But this can get overwhelming considering the numerous options available.
The best thing about buying from car wreckers is it is cheaper. Just imagine not having to pay full price on your LDV T60 auto parts. Now, isn't that great?! You can save more on your car repair needs. This is excellent for people on a tight budget.
But beyond the cost factor, there are other benefits to buying recycled auto parts. It is definitely much easier and quicker to purchase used T60 parts. Some parts are difficult to find, especially if they are for older models of vehicles. But this is not the case with recycled auto parts. Car wreckers easily have LDV T60 used spare parts ready. They even have stock parts for all makes and models.
So not only is it cheaper to buy recycled parts but it is more efficient, too. In today's busy world, these are two things you would want. However, the BIG question is – how can you find the right wreckers?
This is why today, we will help you comb through your options to find the right place to buy used car parts. We will cover important topics such as what to look for, how to find wreckers, and much more. So, keep reading to get the information you need and avoid costly mistakes!
Avoid BIG Mistakes With These Tips On Finding The Best LDV T60 Wreckers
We have already established the fact that recycled auto parts are cheaper than brand new. It is a no-brainer and quite obvious since new parts cost much more.
Vehicle repairs are expensive because of the replacement part and also labor costs. This is why you'd want to save as much as possible. car wreckers can help you make this happen.
But the last thing you want is to buy from unscrupulous businesses. You need to choose your car wreckers carefully. By doing so, you can ensure the best results possible. Here are some tips that can spare you from costly mistakes.
Consider the years in business
As with any business, the longer the car wrecker has been around, the better. You do not want to deal with fly by night wreckers. If you choose LDV T60 wreckers with years in the business, this speaks volumes of their experience. When a company has more professional experience, you can count on their expertise.
Total Parts Plus has been around for quite awhile now. We have more than 40 years of experience in the car wrecking industry. So, we are not your new kids on the block. Our family business has experience and expertise in what we do.
This is why we have so many customers that keep coming back to us – and new ones, as well. They know that they can count on us for the service and value for their money. Total Parts Plus is also a Capricorn-preferred supplier. So, you can expect quality products and services from us each time.
Check the quality of products offered.
It is important to compare different car wreckers and what they offer. The item must be in good condition and is compatible with your vehicle. Thus, you need to check the specifications and be sure it matches your needs. Some people end up making mistakes by not knowing the right details for the used car part to buy.
At Total Parts Plus, all parts are cleaned, tested, and inspected by our quality controllers. This is why you can count on the top quality of every product we offer. From engines, transmissions, and other parts, we make sure these are fit for resale. We inspect every part carefully before it makes its way to our shelves.
Do not hesitate to ask for assistance.
We understand how intimidating it can get to purchase second hand T60 spares. You may be overwhelmed by so many options available. So, you should be sure to ask for assistance whenever you need help.
Total Parts Plus offers a helpful search tool online called Total Parts Locata. You can use this tool for a quick and easy way to locate the parts you need. Simply enter details about the part such as the make and model year. Then, you can get quick access to our massive inventory database.
However, there are times when you may not find what you need. In this case, please reach out to us right away. You can give us a call, send us an email or contact us via our website. Let us know the part you need, and we will do the search for you.
This is our way of making the entire process of buying used car parts much easier for you. Our primary objective is to help you find what you need. So, let us know how we can assist you in any way possible!
Learn more about the refund and return policy.
Not all car wreckers have a refund policy in place. But this is an important feature you want for your peace of mind. In case there is an issue with the product, you need to be able to return it without any problem.
Total Parts Plus offers a real warranty on every item we offer. If the item is not compatible with your vehicle, you can simply return it. Then, we will refund your money. Our money back guarantee gives you peace of mind each time you purchase.
Quality Used Car Parts You Need!
When you need good quality second hand auto parts for your LDV T60, you can find them all from Total Parts Plus. We have a huge inventory database and warehouses Australia-wide. From engines to transmissions and other parts, we have so much to offer.
Simply visit our website today to learn more about our products and services. Go ahead and use our Total Parts Locata search tool to begin. We are also available if you have questions or concerns. Reach out to us via email or phone call – we will