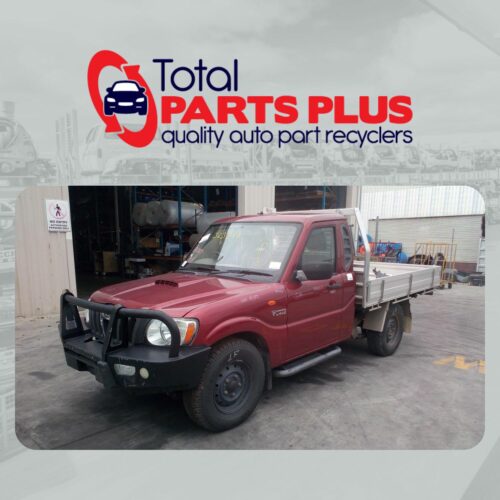 ---
Mahindra Pikup Wreckers – Auto Parts Supplier – Quality Used Car Parts
The Mahindra Pikup is one reliable, sturdy, and well-made vehicle.  However, if you need to get a certain part replaced, it is worth considering Mahindra Pikup wreckers. In fact, you can have an easier time buying used car parts than brand new. Aside from the cost-factor, convenience is one thing to consider.
A car wreck yard is a treasure trove of various auto parts. For instance, car wreckers purchase dilapidated and old vehicles. Then, they extract the parts that are worth recycling and give them a new lease on life. For buyers, this offers a more efficient way of buying hard-to-find stock parts. You can easily find rare auto parts from car wreckers. No more long waiting time!
And most importantly, the price is significantly lower than brand new. This is why if you want to save some money, Mahindra Pikup wreckers are a great way to go!
But purchasing quality used Mahindra Pikup car parts is not always easy. There are many people who end up making mistakes in their purchase. Not only that, but there are those who have a more difficult experience buying secondhand spares.
Today's post shares tips to avoid common mistakes buyers of used car parts make. Find out what these are to spare yourself from unnecessary stress.
Common Mistakes To Avoid When Buying Parts From Mahindra Pikup Wreckers
So you have decided to buy recycled auto parts for your Mahindra Pikup. That's great! You are well on your way to saving on your used Pikup parts. But before you go right ahead and buy from any car wreckers, be sure to know these tips. Here are some mistakes people make when buying from auto wreckers – and how to avoid them.
Not knowing the specifics
Car parts are complex. There are various details that go into each, so you need to know the actual specifications to look for. For example, if you are buying a used engine for your Mahidra Pikup, find out the specs. Engines come in different types depending on the make, model and model year of the vehicle.
You need to know these pieces of information before you buy a car part of your choice. If you are unsure of what to buy, Total Parts Plus is here to help you. We have industry trained staff that you can ask if you are confused. Ask away and let us help you pick the right part for your vehicle. We are expert Mahindra Pikup dismantlers with over 40 years of experience in the auto wrecking industry.
Not comparing prices
It is true that used Mahindra Pikup spares are cheaper than brand new. But not all recycled auto parts are priced the same. Some car wreckers charge more for their products. So, it is good to shop around and compare rates.
At Total Parts Plus, we offer the most competitive price point for every item we sell. Moreover, we have stock parts for all makes and models. As a member of Australia's largest auto recycling group, we have access to various stock parts. This is why we have a huge inventory database and warehouses Australia-wide.
We guarantee our customers of the most reasonable pricing for our products. But more than that, every item comes with a real warranty. This is another way to get the best bang for your buck. If you are dissatisfied with your purchase, we will send you a full refund. No questions asked!
Not asking about delivery services
It is indeed efficient to buy spare parts for your Mahindra Pikup online. But it is even better if you can have the item delivered. This saves you from having to drive to the stop to pick it up yourself. If you are a busy person who wants to save time and money, a delivery option is a great add-on service.
Total Parts Plus allows you to get your order delivered promptly. We have three local delivery runs and interstate shipping everyday. Thus, you do not need to worry about picking the item up yourself. Just select a delivery option, then you can expect to receive your order in a few days. It's that quick and simple!
Not knowing more about the seller
There are numerous Mahindra Pikup wreckers in Brisbane. But they are not all the same. Some have been around just recently while others have more experience. So, we highly recommend that you know your seller well.
Total Parts Plus is a family owned business with more than 40 years of professional experience. We have industry-trained staff and professional auto wreckers to help you out. With our long years in the business, you can count on our quality products and services. This is also the reason why we have numerous repeat and new customers. People walk away feeling satisfied with the item they buy from us.
At Total Parts Plus, all parts are cleaned, tested and inspected by our quality controllers. Hence, we make sure that they are of the finest quality each time. Most importantly, we are one of Brisbane's leading passenger car, suv, 4×4 and commercial wreckers. Plus, we are a Capricorn-preferred supplier offering top-quality products all the time.
Some of the top selling auto recycled parts
Engines

Transmissions

Tailgates

Doors

Door Mirrors

Headlamps

Taillamps

Guards

Power Door window switch
Go ahead and check out our products and services by visiting our website today!
Choose A Reliable Mahindra Pikup Wrecker You Can Trust
There are numerous car wreckers out there but you need to comb through your options well. Just because one claims to be the best does not mean it is definite. So, it is good to do your homework before you give any auto wrecker your business.
Total Parts Plus offers good quality auto parts at a reasonable price. We guarantee your satisfaction and value for the money each time.
So whenever you need used spare parts for your Mahindra Pikup, simply use our Total Parts Locata search tool. This tool makes the search much quicker and easier for you. Also, we sell stock parts of all makes and models. So, no need to drive around to buy parts – we have them all for you!
Check out our website today to learn more. Or, give us a call or send us an email if you have inquiries or concerns. We hope to see you soon!