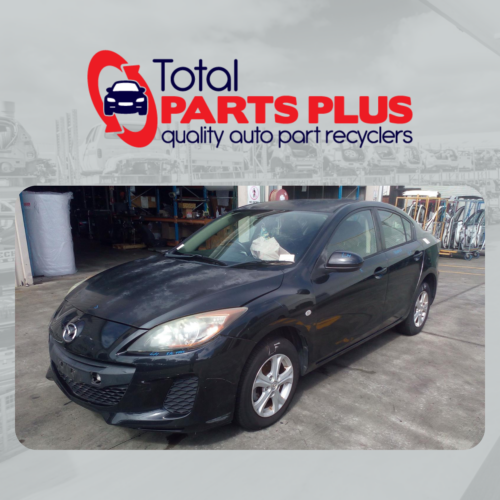 ---
Mazda 3 Wreckers – Selling Quality Mazda 3 Used Spare Parts
Maintenance and repair costs are all part of owning a car. But if your vehicle breaks down, and you need to have some parts replaced, there are budget-friendly ways to go about it. This is why Mazda 3 wreckers are worth looking into when it comes to getting your automobile fixed.
Generally, the Mazda 3 is a smart choice for your very first car. These are solid and robust vehicles that are built to last, and the price point is lower than the Corolla or the Civic. You can find them in two styles – hatchback or with a standard trunk.
When your Mazda 3 starts showing signs of problems, it may be worth while looking into what a reliable Mazda 3 wreckers has to offer. These car wreckers should have a practical solution to your concern while helping you stick to your budget.
Why Choose Total Parts Plus Mazda 3 Wreckers
There are many benefits in buying auto recycled parts at Mazda 3 wreckers. Here are some of them:
1. Efficient Place To Buy The Parts You Need
When you go to Mazda 3 wreckers for auto parts, you are guaranteed to find the right parts you need to get your vehicle fixed.
For instance, Total Parts Plus is the best place to find Mazda 3 car parts. We can take the worry out of finding the part you need. Simply check out our online Total Parts Locata to find the part you require for your vehicle repair.
We have a wide range of used car parts for the Mazda 3 including:
Engines

Doors

Taillamps

Transmissions

Door mirrors

Guards

Headlamps

Power door window switch
This is why there is no need to look further or to visit several wreckers just to find the right car part. With our massive inventory of parts, we assure you that you can walk away with the exact auto part you need to get your vehicle fixed.
2. Top-Notch Assistance
In the unlikely event that you cannot find the right part and in case we don't have it in stock, we take the worry out of finding the part you need. We will track it down for you to take the stress out of locating it.
We have warehouses Australia wide. Moreover, Total Parts Plus is a part of the largest recycling group in Australia, so we can assure you of finding the part for you. With new stocks arriving daily, you can rest assured that we'll have the part ready for you.
3. Superior Quality Used Car Parts
Some people assume that used car parts are not reliable since they are not brand new. However, the fact remains that even new auto parts break down and malfunction over time – and they cost twice or more the price of used ones!
Total Parts Plus recycle all parts that are in good working order and suitable for resale. We have professional auto wreckers on site who make sure that all parts are cleaned, inspected and tested by our experienced quality controller. This is why all our used and secondhand parts are good as new.
4. Convenient And Easy
Buying from trustworthy Mazda 3 wreckers is convenient, simple, and easy. As a used Mazda 3 car part specialist, we make sure that every item on our shelves is guaranteed to be at its finest quality.
Once you have found the part you need from our online Total Parts Locata, you can opt to have it delivered at your doorstep for your convenience and ease. We have three local delivery runs in Brisbane and interstate shipping every day.
Plus, we offer a warranty in all our products. If for some reason you are not completely satisfied with your purchase, we will give you your money-back – no questions asked!
Professional Mazda 3 Dismantlers You Can Trust
When your Mazda 3 breaks down, and you need to find the right part to get it fixed, we are here to help you out!
With over 40 years of experience in the wrecking industry you cant go wrong.  Total Parts Plus can help you locate the right replacement part for your car – and in excellent quality, too. Please check out our online part search today or give us a call for any further assistance that you need.
Please check us out on Facebook to get updates on arrivals on new parts. We look forward to seeing you soon!