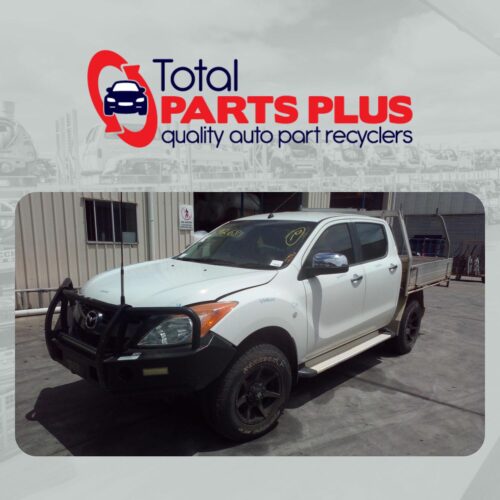 ---
Top-Notch Mazda BT50 Wreckers – Selling Quality Mazda BT50 Used Spare Parts
 If your looking for a quality Mazda BT50 Wreckers you are in the right place.  Total Parts Plus are one of the leading suppliers of quality spare parts for this make and model.
A compact pick-up truck/ mid-size vehicle, the Mazda BT50 is packed with a punch. It was first manufactured in 2006, and today, we can still see this type of vehicle on the road and various dealerships in and around Australia.
When your Mazda BT50 is showing signs of wear damage, or it needs some repair, it may be worth it to look into reputable Mazda BT50 wreckers to help you fix the issue at hand. As these offer cheaper rates for top-quality services, it only makes sense to consider what these BT50 wreckers can do for you.
Brisbane Car Wreckers For Mazda BT50 Spares
So, you have been driving your BT50 for quite a while now when you suddenly notice an issue with either the engine, the transmission, or other key components of your vehicle.
When this happens, it is worth checking out your Mazda wreckers of choice to help you address this problem. With so many Mazda wreckers Brisbane has in store for everyone, you will surely find one that you think can meet your needs the best.
Let us look into the key reasons why you should consider buying used car parts from Mazda BT50 wreckers in Brisbane.
1. Experience
Brisbane car wreckers with years of experience in the industry are your best bet when it comes to finding the best spare parts your vehicle needs. You should be able to seek professional assistance from expert wreckers who are knowledgeable about what they do.
For instance, Total Parts Plus have been one of Australia's leading reputable auto wreckers for a number of years. We Are the leading used car parts specialist providing the best place to find Mazda BT50 car parts.
You can either stop in, give us a call or head over to our website and search for the parts you need using our Total Parts Locata. When you need assistance, you should be able to find just the right item you require for your vehicle.
2. Quality Spare Parts
Another great thing about finding quality used Mazda parts from reputable Mazda BT50 dismantlers is their huge inventory base. You should be able to find used Mazda BT50 parts for sale that you need.
As Mazda BT50 parts do not always come by so easily, you can most certainly experience a less stressful time finding what you need from experts specialising in Mazda BT50 wrecking, in particular.
Total Parts Plus has a massive inventory of stock on site and access to stock Australia-wide. Hence, you can find the parts you require as we offer some of the top-selling auto recycled parts for the Mazda BT50 including:
Transmission

Engines

Door window switch

Doors

Tailgates

Tail lamps

Guards

Door mirrors

Headlamps

And more
3. Expertise
It is worth looking into Mazda BT50 wreckers that have a reputation for being one of the best in the industry. You can get the help you need from industry-trained staff that can assist you with getting your vehicle up and running in no time.
At Total Parts Plus, we are a family owned business with professional auto wreckers with over 40 years of experience in the wrecking service. All parts are cleaned, inspected and tested by our experienced quality controller. Thus, you can be certain that every spare part you get is worth your time and money.
Total Parts Plus Guarantee
When you need the best, reasonably-priced recycled auto parts, Total Parts Plus is one of the finest you can find in Brisbane, Queensland and nearby locations.
Some of the benefits of purchasing with Total Parts include a more affordable price point, top-quality car parts, stress-free experience in finding used Mazda BT50 parts, and knowledgeable staff to help you with all of your concerns.
So, when you need near-new quality Mazda BT50 parts that are a great bang for your buck, please give us a call or send us an email enquiry to learn more about products and services.
We also invite you to join our Facebook page to stay up to date on when new parts are arriving on site that may be just what you have been searching for your vehicle. We look forward to hearing from you soon and providing you with the service you need!