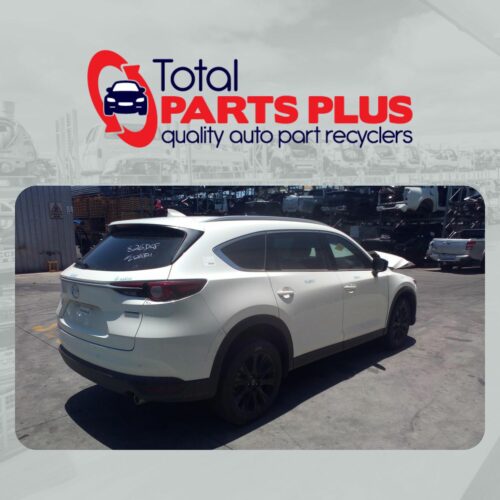 ---
Mazda CX8 Wreckers – Auto Parts Supplier – Quality Used Car Parts
If you have never bought used car parts from Mazda CX8 wreckers, you are missing out.
Most people assume brand new parts are their best bet. After all, how can one go wrong with new spare parts …right?
However, this misconception is what causes you to spend more than you should. We understand that car maintenance is costly. So, it would definitely be good to find a cheaper alternative to pricey car parts.
This is how CX8 wreckers can help. They provide quality used Mazda CX8 car parts for your repair needs. When old cars are taken to site, wreckers dismantle and get usable parts. Then, these parts are cleaned and tested to make sure they still function as expected.
Therefore, Mazda CX8 secondhand parts can do the job – and these are cheaper than brand new!
But then again, it is always good to look at both sides of the coin. In anything, there are benefits and drawbacks. So, today, we will look at the pros and cons of buying from CX8 wreckers. Then, we will tie it all up in the end to help you determine the best course of action to take.
Let's dive into it.
Pros And Cons Of Buying From Mazda CX8 Wreckers
When making any decision, it is good to analyze different points. Of course, there will always be pros and cons in anything. So, let us study the advantages and disadvantages that come with purchasing recycled auto parts.
Here are the benefits:
Cost
This is a given. It is expected that used CX8 parts are the cheapest you can find. No matter where you look, brand new will always cost more. But at the same time, there is no point in buying brand new parts for an older vehicle. Your car may no longer be covered by warranty. So, it is practical to find a cheaper replacement part that similarly does the job as brand new does. Most importantly, you can get this part several times cheaper than the price of a new one.
Ease of buying rare parts
Car wreckers have access to auto recycling groups all over the country. If you have an older vehicle needing a rare part replacement, this can be tricky. Some manufacturers may have stopped production of this part. Or perhaps, it is very expensive and hard to find.
But auto wreckers make the process of finding rare parts more convenient. Since they source cars from various parts of the country, they have available parts for you. These are also stock parts, which is what you need. Therefore, if you want ease in purchasing rare parts, going to Mazda CX8 wreckers is a smart choice.
An eco-friendly option
Landfill issues affect the whole planet. To make matters worse, many of the rubbish could have been recycled to reduce landfill problems. This is how car wreckers are doing their bit. They give old parts a new lease on life. So, instead of putting them in landfills, these parts are recycled.
Just imagine how many resources are used to manufacture and ship brand new car parts. Then, old parts are dumped into landfills, even if they are still salvageable. This is why by purchasing used CX8 parts, you are helping minimize landfill issues. Every small action counts.
Warranty
This is something that may not be true for all wreckers. Yet, there are some car wreckers that offer a warranty on their products. So, it is good to know if your product is covered by a warranty. This is helpful in the event that you purchased the wrong part, and you need to return it. With a good warranty, you can even get a full refund on the amount you paid.
Now, let us discuss the drawbacks of buying from car wreckers.
History of parts
This does not apply to all wreckers. But do keep in mind that some wreckers may not fully disclose the part's history. You need to obtain this essential information before buying used parts. There are certain things to determine such as the age, damage history, and background of the part in question. By knowing the full details, you will know what to expect from it.
Overwhelming
Just imagine having to go through thousands of parts just to find the one you need. It is like a needle in a haystack situation! This is the last thing you want to deal with when you already have too much on your plate. So, it would be good if the wrecker has a practical solution for you.
Leading Mazda CX8 Wreckers In Brisbane
We understand the dilemma in purchasing used Mazda CX8 spare parts. Sure, these are cheaper than brand new. Yet, you may not be too thrilled about having to deal with so many options that overwhelm you. This is why it is important to look at your choices carefully.
Total Parts Plus is one of Brisbane's leading passenger car, suv, 4×4 and commercial wreckers. We are a family business with over 40 years of professional experience in the industry. This is why we can provide you with the service you need.
Here are just some of the things you can expect from us:
Quality products
We do not settle for anything less – and neither should you. This is why we make sure that every part we salvage gets cleaned, tested and inspected by our quality controllers. Our products go through stringent inspection before they are available for resale. So, you can count on their quality performance each time.
Massive inventory
You want to make sure that you can get all you need under one roof. This saves you from having to drive around town in search of those parts. Total Parts Plus has a wide inventory database of quality used car parts. We are a member of the largest auto recycling group in Australia. This is why we get access to hundreds of thousands of parts that we salvage and ensure to be fit for resale.
Warranty
We stand by the quality of products we sell. This is why every item we have on sale is backed by a warranty. Our no-fuss money back guarantee makes it risk-free to purchase from us. You can always walk away satisfied with your purchase. Most importantly, we guarantee a bang for your buck each time!
But don't just take our word for it. You need to experience it for yourself. Check out our website today and use our Total Parts Locata search tool. You can expect a seamless, worry-free and easy purchasing experience from start to finish!
Got questions? Please feel free to reach out to us by phone or email. We are here to help you anytime!