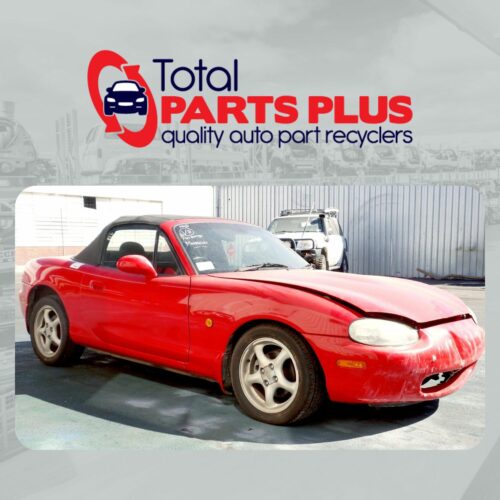 ---
Mazda MX5 Wreckers – Auto Parts Supplier – Quality Used Car Parts
Perhaps you are thinking about getting replacement parts for your vehicle repair. Not many people may be aware of this, yet Mazda MX5 wreckers can help you. If you want to save money, time and energy, they offer great options for you.
Now, you are wondering – how are these all possible? There is the misconception that car wreckers offer inferior parts. But is this really true?
This cannot be farther from the reality. Contrary to what many people think, MX5 wreckers offer so many benefits. You are not only getting a cheaper rate but a better value! This is something you would not want to miss out on.
Today, we will talk about why you should consider buying Mazda MX5 auto parts from wreckers. Find out these amazing reasons and how to find reliable ones in and around Brisbane. Let's jump right into it.
5 Key Benefits Of Buying From Mazda MX5 Wreckers
The Mazda MX5 is one robust vehicle. But it is not without any problems. As with any vehicle, issues may arise at one point or another. This is why it is good to be prepared with your budget.
Every owner understands the cost of vehicle maintenance. When your car breaks down, you need to allot a budget for repair. Replacement parts can be costly. This is true whether you buy aftermarket parts – and even pricier for stock parts. As long as it is brand new, expect to shell out a lot of money.
However, there is a way to reduce your cost. This is possible by purchasing used Mazda MX5 parts instead of brand new. In many cases, you can save over 50 percent. This is why it is a great help for those who are looking to meet their budget.
There is so much more that you can expect from buying secondhand spare parts for Mazda MX5. Here they are:
Wide availability
There are inconveniences that come along with buying parts for vehicle makes that are older and quite rare. If you need to buy a rare part, it can take a long time for you to get one. In fact, there are those that wait for months to find a rare car part. So, if you want to have an easier time buying car parts, Mazda MX5 wreckers can help. These wreckers have a wider source of used car parts. So, you should not have any problem with finding one.
This is very helpful when you need to get your vehicle fixed quickly. So, when it comes to convenience, you can count on what car wreckers have to offer.
Savings
Everything nowadays comes with a higher price point. With the price of commodities skyrocketing, you would want to get some savings. Thankfully, it is something that auto wreckers can offer.
When you purchase a brand new engine, expect to pay thousands of dollars. But if you go for used parts, it should cost only a few hundred. Every dollar counts, especially if you are on a tight budget. Hence, it is a practical choice to go to Mazda MX5 wreckers Brisbane folks recommend for car parts.
Reduce landfill issues
Every single day, tons of rubbish is being dumped into landfills. The sad part is that not all of these are considered trash or useless. In fact, many used car parts can still serve a purpose. But there are those who choose to buy brand new. Therefore, the production of new parts continues.
Meanwhile, this leads to an increase in usage and wastage of the Earth's limited resources. So many things come into play in the production of new auto parts. From manufacturing to transportation, this leads to a higher carbon footprint.
Car wreckers do their part in helping with landfill issues. They salvage useful and functional parts and recondition them. So, these are good for use when you need parts for vehicle repair. They give these recycled auto parts a new lease on life.
By purchasing used MX5 parts, you are becoming a part of the solution – not the problem. Hence, it is worth looking into buying used car parts for your vehicle repair needs.
How To Find The Best Mazda MX5 Wreckers
There are indeed so many reasons to consider buying Mazda MX5 secondhand parts. From time and money savings, so many benefits await you.
Now the next question is – how can you find the right MX5 wreckers for your needs? These are a few things to keep in mind.
Business Reputation and Expertise
With so many options for wreckers in Brisbane, Queensland, and so on, it is good to choose only the best. Thus, you should check the company's reputation to know if it suits your needs. A company that has been around for a long time is a good choice. This means, they are pretty much experts and experienced in the wrecking industry.
Total Parts Plus has 40+ years of experience as professional auto wreckers. We have several repeat and new customers coming to us for quality parts. This is why you can count on us for the best secondhand parts worth your dollar.
Customer Service
A low price tag is not the only thing to keep in mind. You also need to be sure that the level of customer service is great. So, you need to compare several options until you find one that suits you.
At Total Parts Plus, our customers' needs are our priority. We are here to make the process of buying auto parts for Mazda MX5 seamless. Use our Total Parts Locata online tool to begin your search. Or, you can reach out to us when you have a hard time finding what you need. We will do the search for you and let you know once the item is available.
With fast delivery, a no fuss money back guarantee, and attentive service, we ensure your total satisfaction.
Quality products
At Total Parts Plus, all parts are cleaned, tested and inspected by our quality controller. So, these are guaranteed to be fit for resale. We are one of Brisbane's leading passenger car, suv, 4×4 and commercial wreckers. We have stock parts of all makes and models including the Mazda MX5.
Some of the top selling auto recycled parts
Engines

Transmissions

Tailgates

Doors

Door Mirrors

Headlamps

Taillamps

Guards

Power Door window switches
Go ahead and check our website to start your search using our Total Parts Locata tool. Reach out to us by phone or email if you need further assistance. We lo