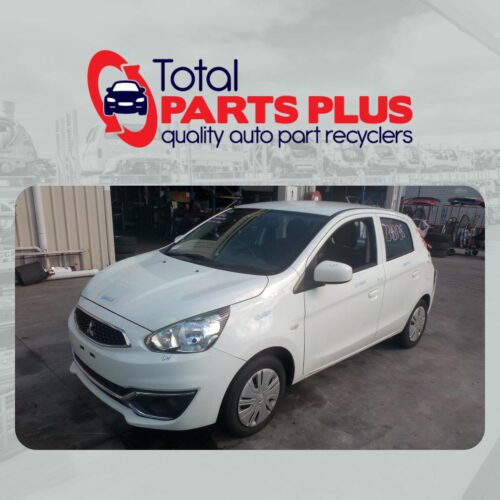 ---
Mitsubishi Mirage Wreckers – Auto Parts Supplier – Quality Used Car Parts
Are you looking for a more cost-effective way to purchase auto parts for your Mitsubishi Mirage repair needs? If that's the case, Mitsubishi Mirage wreckers may be able to assist you. There are numerous advantages to purchasing car parts from wreckers. Yet, few people are aware of them. This results in them paying more for something that can be obtained at a lower cost.
Maybe you've always been interested in purchasing used Mirage parts. Or you're seeking to reduce your Mirage car parts expenses. If that's the case, visiting a reputable wrecker in your area is the best option.
Today, we'll discuss the amazing benefits of buying used car parts that are available to you. Learn why you should go to the Mitsubishi Mirage wreckers that Brisbane trusts. Here are only a few reasons to consider purchasing used car parts for your requirements. Let's get started.
Why You Should Choose Mitsubishi Mirage Wreckers Over Brand New
Mitsubishi Mirage wreckers are a great option if you are looking for affordable spare parts for your car repairs. Here are some benefits of buying used car parts:
Cost Factor
The most significant benefit of buying used car parts is that they are less expensive than brand new ones. Purchasing Mirage secondhand parts can save you hundreds of dollars. This makes it an ideal solution for those on a tight budget. Buying multiple spare parts can quickly add up. Therefore, purchasing them cheaper can reduce costs significantly.
Ease of finding quality auto parts
It can be challenging to find rare auto parts for some vehicle models. In fact, it may take a long time. However, Mirage wreckers have a broad inventory of used car parts. Hence, it is easy and fast to find quality used Mitsubishi Mirage car parts. This spares you from the long wait and inconvenience of trying to buy brand new parts.
Practicality
Buying expensive, brand new parts for an older vehicle is not practical. This is because any vehicle depreciates over time. On the other hand, new spare parts don't increase its resale value. Buying affordable used Mirage parts is a more practical option that can do the job without breaking the bank.
Backed by a Warranty
While not all wreckers offer warranties for their spare parts, some do. But having a warranty can be very helpful. It gives you that peace of mind with your purchase.  Be sure to check the warranty options before making a purchase.
Customer service
Choosing a reliable wrecker in Brisbane can provide quality service and professional assistance. The staff can assist first-time buyers in buying used car parts, and some wreckers may provide prompt delivery services, making the buying process less stressful.
Find Quality Used Car Parts At Mitsubishi Mirage Wreckers
Looking for quality used car parts in Brisbane can be overwhelming for some. The thought of navigating through a cluttered and crowded junkyard is stressful. There are thousands of car parts to look for, and it can be daunting. Fortunately, this is not the case when dealing with a trusted Mitsubishi Mirage wrecker like Total Parts Plus. With us, buying used car parts is easy and efficient.
At Total Parts Plus, there are only very simple steps for buying Mitsubishi Mirage used car parts:
When you visit our website, you'll find the Total Parts Locata search tool. Simply enter details about the part you need, hit enter, and browse through the results. This makes the process seamless and effortless!
Some of the top selling auto recycled parts
Engines

Transmissions

Tailgates

Doors

Door Mirrors

Headlamps

Taillamps

Guards

Power Door window switches
We have more parts available – please check out our website to start your search!
Place your order and choose your shipping option.
Once you've found the part you need, click "buy," make your payment. Then, you can choose your delivery option. We offer three local delivery runs in Brisbane and interstate shipping every day. Hence, you can expect your order to arrive in just a few days.
Contact us for assistance.
If you can't find the part you need, simply let us know by calling or sending us an email. We are a member of the largest auto recycling group in Australia. Thus, Total Parts Plus has access to thousands of quality parts and warehouses Australia-wide. We'll do the search for you and get your part to you promptly.
Here are among the many reasons to choose Total Parts Plus for your used car parts needs:
Real Warranty

Huge inventory database

Warehouses Australia Wide

Industry Trained staff

One of Brisbane's leading passenger car, suv, 4×4 and commercial wreckers

Member of the largest auto recycling group in Australia

Parts are cleaned, inspected and tested by our experienced quality controller

Three local delivery runs in Brisbane and interstate shipping every day.

No Fuss money back guarantee

Capricorn preferred Supplier

Professional auto wreckers

Stock arriving daily

Stock parts of all makes and models
As you can see, we specialise in Mitsubishi Mirage wrecking, yet we also cater to other makes and models. This is why we are your one-stop-shop for your used car parts needs. Just visit our website to begin your search.
Search Parts Online Today
Total Parts Plus is a family-owned business with over 40 years of experience in Mitsubishi Mirage wrecking. We have stock parts for all makes and models. We make it easy for you to find quality used car parts in Brisbane.
Moreover, we invite you to follow us on Facebook. We have regular updates on new products arriving on site. You can go through our list of products' arrivals that may be just what you need.
Visit our website today to begin your search and don't hesitate to contact us for assistance.