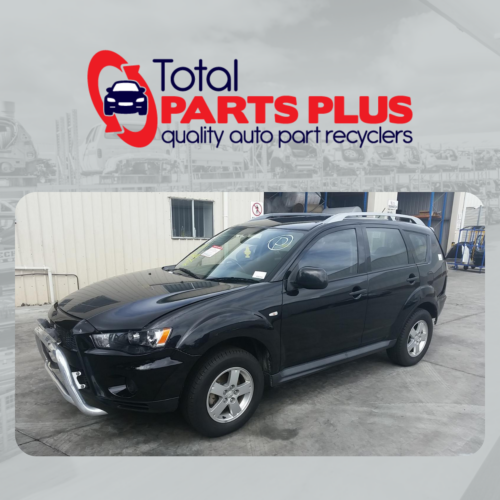 ---
Quality Mitsubishi Spare Parts – Mitsubishi
Outlander
Wreckers
Robust, solid, and built to last for years, the Mitsubishi Outlander is a sturdy midsize crossover that can handle different types of terrain and long-distance driving. But in spite of its durable build, there are instances when your Outlander may experience some issues and will be in need of a repair – and this is what the best Mitsubishi Outlander wreckers can help you with!
Although some people default to buying brand new parts, it is not the most practical choice. Since every part breaks down at a certain point – whether brand new or used car parts – then it all boils down to choosing what suits your budget best and what makes the most sense.
This is why it is worth looking into what reliable Outlander wreckers can help you with – and why they are the smartest choice when buying car parts for your vehicle repair needs.
Little-Known Benefits of Choosing Mitsubishi Outlander Wreckers
Not many people may be aware of it but there are so many things Outlander wreckers can offer that brand new parts sellers cannot! From budget-saving options to eco-friendly benefits, here are many reasons why you should be buying used car parts instead of new ones.
1. Extensive Selection Of Products
Mitsubishi Outlander wreckers Brisbane owners trust can count on a wide selection of good-quality used car parts at their fingertips. For instance, Total Parts Plus is a member of the largest auto recycling group in Australia, which explains our massive inventory of products.
From engines to taillamps and transmissions (and more!), you can most certainly find the right Outlander part that you need to get your vehicle fixed. We make sure that all secondhand parts are in excellent working order and are suitable for resale before they make it on our shelves.
Each part is cleaned, inspected, and checked thoroughly by our quality control specialists to ensure their optimum performance.
2. Unparalleled Expertise
When you seek for used car parts at reliable Mitsubishi Outlander wreckers, you can be certain that the staff are industry experts who really know what they are talking about. Total Parts Plus has industry-trained staff and professional auto wreckers who are always ready to assist you.
If you are unsure about a part, or you need another car part but not certain about what to buy, we can help you make the right decision. With over 40 years of experience in the industry, we guarantee our expertise in this field to help you out.
3. Budget-Friendly Option
Owning a car is expensive as it is – and when you need to have it fixed – this costs a LOT of money. Every car owner understands how costly repairs are, and we hear you!
This is why a more budget-friendly option is to buy used car parts from professional Mitsubishi Outlander dismantlers, so you can be 100 percent sure that every item on stock is guaranteed to provide you with the best value for your money.
4. Eco-Friendly Solution
Another amazing benefit that car wreckers offer is the eco-friendly solution they provide. Instead of letting used parts make their way into the landfill, professional wreckers give them new life to serve their purpose longer.
Total Parts Plus recycle auto parts that are still suitable for use – and condition them in a way that they are just as good as new. More parts are kept in circulation, so they get a new lease on life while reducing landfill.
Mitsubishi Outlander Wreckers –
Why Total Parts Plus?
Total Parts Plus is one of Brisbane's most trusted car wreckers with over 40 years in the industry. We are among the leading wreckers for passenger cars, SUVs, commercial, and 4×4 vehicles.
Moreover, we are a Capricorn-preferred supplier, so you can count on us for supplying only the highest-quality products for all our customers. With industry-trained staff always ready to assist you, we guarantee you of your total satisfaction and the best bang for your buck by choosing our products and services.
No time to stop by at our shop? No problem! You can search for used car parts using our online Total Parts Locata for your total convenience. Then, you can have the item delivered right at your doorstep and expect to receive it in a few days.
We currently have three local delivery runs in Brisbane and interstate shipping everyday. And with our no-fuss money back guarantee, it adds to your peace of mind for a risk-free purchase from us.
When you need the best car parts, trustworthy auto wreckers, and the best value for your time and money, Total Parts Plus is just what you've been searching for. Check out our Facebook page for updates on arrivals of new stocks or visit our website to learn more about us and how we can help you. See you there!