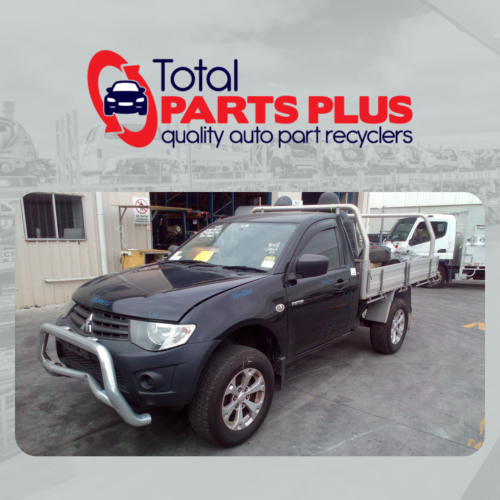 ---
Mitsubishi Triton Wreckers – Quality Mitsubishi Spare Parts
When your car breaks down, it can be quite a frustrating and expensive ordeal – unless you go straight to Mitsubishi Triton wreckers that car owners trust. Instead of buying brand new parts, used car parts can save you a significant amount of money. But it is a matter of knowing which one you can trust.
We are here to help you find the right wrecker company the first time around – and avoid costly mistakes. So, to guide you further on how to find your Mitsubishi Triton wreckers of choice, keep reading to know how to get it right the first time.
Why Mitsubishi Triton Wreckers
First things first – what's great about choosing Mitsubishi Triton wreckers over brand new car part sellers, anyway?
For the most part, brand new parts are EXPENSIVE. They cost double the price of auto recycled parts… Sometimes more. And to make things worse, brand new parts are not immune from breaking down. Everything breaks – new or used parts alike.
This is why there is no point in buying a more expensive car part when the performance is just as good as used ones, yet at a steeper price point. 
Over the course of its lifespan, your Mitsubishi Triton will break down. While it is a good SUV and can easily handle city and country driving for hours, this vehicle has parts that are not designed to last for several decades.
Thus, it is best to keep a realistic view when buying replacement parts for your vehicle, which is a more practical and cost-effective choice. This is where Triton wreckers take the lead.
So, how do you choose from dozens of options for Brisbane's finest Triton wreckers? Here are some pointers to consider.
How To Choose The Best Mitsubishi Triton Spares Supplier
The good thing about finding Triton wreckers is that there are many of them. Since Triton is a fairly common vehicle in and around Brisbane, you can easily find wreckers that specialise in this model and offer various replacement parts you need.
But with many options comes the dilemma of making sure you have the right choice. So, we have come up with this practical guide to help you search the finest option and weed out the bad ones. Here we go:
1. Experience and Expertise
These two things go hand in hand – after all, you cannot expect an expert to only possess a couple of years of professional experience under its belt. You need to make sure that you work with someone who is at least 5 or so years in the business.
This is what sets Total Parts Plus apart from the rest. A family-owned business with over 40 years of experience, we are industry experts in the field of car wrecking. We have professional auto wreckers who have been engaged in this task for decades, which is what makes them highly knowledgeable and skilled in what they do.
Not finding what you are looking for? No problem. We take the stress out of finding the right part, so you can focus on other things you need to attend to. You can also inquire from us to know the right replacement part that will solve that issue you are experiencing with your vehicle.
2. Everything Under One Roof
From engines to doors and transmissions to guards, we have literally any car part you can think of that will fix your vehicle's problem. Plus, we have parts for all makes and models. While we specialize in the Mitsubishi Triton, we do carry parts of various car models and makes, so you don't have to go to several shops in search of the spare you need.
No time to head over to our shop? No problem. You can use our online parts locata on our website, so you can search for the replacement part for your vehicle in literally seconds. In case you are uncertain about the part in question, you can easily reach out to us to speak with our industry experts for professional guidance.
3. Warranty, Delivery Service, And More
Not everybody has the luxury of time to drive to the shop and buy a replacement part they need to fix their vehicle. This is why having someone who can deliver the item at your doorstep as promptly as possible is a great plus.
At Total Parts Plus, you can have us ship the item to you in just a couple of days. We offer three local delivery runs in and around Brisbane, in addition to interstate shipping everyday. Moreover, we have stocks arriving daily, so you can be sure to find just the right item you need.
And here's a major plus point we offer – we provide a warranty on all of our products. Our no-fuss money-back guarantee gives you the peace of mind that your purchases are all risk-free. If for some reason you are dissatisfied with your purchase, we will give you a refund on your purchase. No questions asked.
As a Capricorn-preferred supplier and one of Brisbane's leading passenger car, 4×4, SUV and commercial wreckers, we stand by the quality of products and services we provide. Hence, you can rest assured that every item you purchase from us is of the highest level of quality for your total satisfaction and value for your money.
Mitsubishi Triton Wreckers You Can Count On
A car breaking down is always a stressful and expensive ordeal. However, this does not need to be your story – we make it much easier and more cost-effective to get the right spare parts for your vehicle… And fast.
Total Parts Plus is your professional auto wrecker that can take the stress out in shopping for auto recycled parts worth your time and money. Please visit us today or give us a call to learn more about our products. Join our Facebook page to get daily updates on new products arriving on site. We hope to serve you soon!