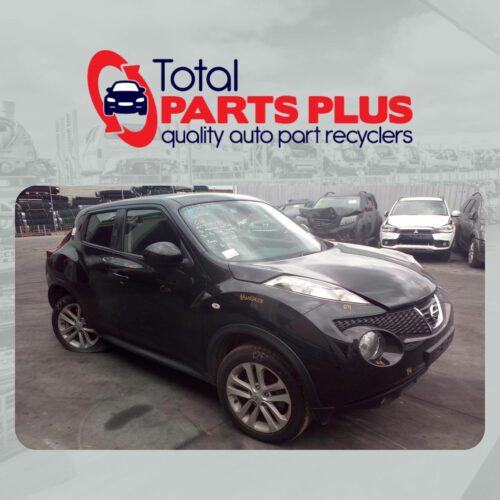 ---
Nissan Juke Wreckers – Auto Parts Supplier – Quality Used Car Parts
Do you find it challenging to locate the top Nissan Juke wreckers in town? Conducting a basic Google search can be unhelpful as it produces numerous results. To make matters worse, you are unsure of where to start. We comprehend the difficulty, and it can be overwhelming.
Fortunately, you can take certain measures to ensure that you select the right Juke wreckers that meet your requirements. This will also prevent you from making a costly error. Keep in mind that not all Nissan Juke wreckers are equal. Some are better than others.
Therefore, it is critical to have a good understanding of your alternatives. This can significantly enhance your overall purchasing experience. Furthermore, you can even secure a more favorable deal on your purchase. Who wouldn't want that?
Continue reading this article to learn how to locate the exceptional Nissan Juke wreckers recommended by Brisbane residents. We will provide you with structured steps to obtain the greatest value for your money, so let's get started!
Tips for Finding the Best Nissan Juke Wreckers in Brisbane
It's great to have a lot of car wreckers in Brisbane and its surrounding areas. This means there are many places to purchase used car parts. This includes affordable Nissan Juke auto parts. However, it's important to choose the right Nissan Juke wreckers. By doing so, you can get the best service and products. Here are some tips to help you do so:
Research the company's background.
Before doing business with any wrecker, consider their track record and how long they've been operating. Look for recommendations from previous customers. A wrecker that has been in business for a long time is likely more reliable.
Total Parts Plus, for example, is a family-owned business with over 40 years of professional experience. As one of Brisbane's leading wreckers for passenger cars, SUVs, 4x4s, and commercial vehicles. We are also a Capricorn preferred supplier, ensuring quality products.
Check their inventory.
It's helpful to have a wide selection of quality used Nissan Juke parts to choose from. This is particularly true when looking for rare parts. Total Parts Plus has an extensive inventory, including stock on-site and access to stock Australia-wide.
Some of the top selling auto recycled parts
Engines

Transmissions

Tailgates

Doors

Door Mirrors

Headlamps

Taillamps

Guards

Power Door window switches
We specialize in Nissan Juke wrecking and offer a wide range of parts. Among the parts we offer include engines and transmissions to doors and taillights. Plus, our Total Parts Locata tool makes it easy to find the parts you need quickly.
Make sure the buying process is efficient.
With Total Parts Locata, you can find the parts you need with ease. If you're having trouble finding a particular part, our industry-trained staff are always available to assist you. Simply let us know what you're looking for, and we'll do the searching for you.
Look for a good return and refund policy.
Not all businesses have a good refund policy. Yet, at Total Parts Plus, we offer a full refund on all our products. If you're not satisfied with your purchase, simply let us know and we'll refund your money in full. This risk-free guarantee is why our customers trust us for their car part needs.
In summary, these are important points to look for in the best Nissan Juke wreckers in Brisbane. You need to consider the company's background, their inventory, the buying process, and their return and refund policy. Total Parts Plus ticks all these boxes, making us the ideal choice for all your Juke spare parts needs.
Great Benefits Of Buying Used Parts From Nissan Juke Wreckers
Do you find yourself in need of car parts after your vehicle breaks down? This is a common situation for all vehicle owners. In spite of your dependable Nissan Juke, it can still require repairs over time.
However, purchasing spare parts can be a major expense. This is particularly true if you choose to buy brand new or stock parts. It is crucial to ensure that any parts you buy are compatible with your car and won't cause further damage.
Rather than immediately heading to a brand new part seller, consider visiting car wreckers instead. Here are key benefits you can expect:
Significant savings
Purchasing secondhand Nissan Juke parts from wreckers can save you a considerable amount of money. Used parts are typically much cheaper than brand new ones. In fact, you may be able to save as much as 50% or more on your purchase. This can make a significant difference to your budget and help you save hundreds of dollars.
Compatibility
New parts from third-party manufacturers may not always be compatible with your vehicle. However, car wreckers have parts for all makes and models, including stock parts. These are guaranteed to work with your Nissan Juke. This makes it easier to find the specific part you need, without breaking the bank.
Decent quality for the price you pay
Don't assume that all parts from a wrecked car are useless. Car wreckers thoroughly inspect every part of a car that is sent to them. They also identify any parts that can be reused or reconditioned. You can expect good quality spare parts, including used engines and transmissions. These are just as reliable as brand new parts.
Expert assistance
If you choose to purchase from reliable car wreckers, you can expect professional assistance. It is important in finding the right part for your vehicle. They can answer any questions you have. Moreover, they can provide you with valuable information about the background of the part. This way, you can make an informed decision and get the best value for your money.
Trusted Nissan Juke Wreckers In Brisbane
Looking for the right Nissan Juke wreckers for used car parts can be a challenging task. It is daunting given the many options available in Brisbane. However, with careful research, you can make an informed decision. Therefore, you can be certain to get the best quality Nissan Juke spares.
Total Parts Plus is one of the trusted Nissan Juke wreckers in Brisbane. We specialise in passenger cars, SUVs, 4x4s, and commercial vehicles. We receive stocks regularly, with parts of all makes and models in our inventory. Our quality controller carefully cleans, tests, and inspects all parts. Therefore, we ensure that you receive only quality products that are compatible with your vehicle.
You can conveniently browse our website to find the Nissan Juke auto parts you need. If you have any queries or concerns, our friendly team is always available to assist you. Don't hesitate to give us a call or send us an email today!