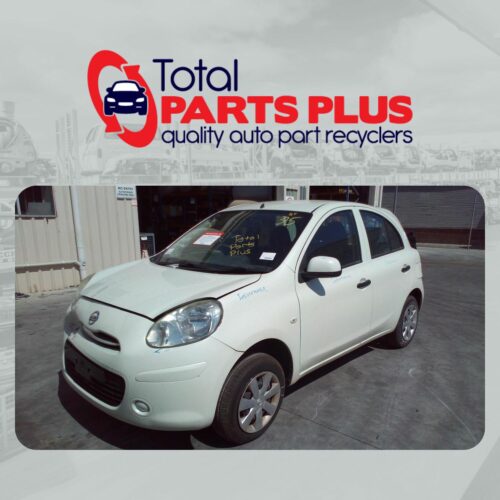 ---
Nissan Micra Wreckers – Auto Parts Supplier – Quality Used Car Parts
Maybe you're in need of replacement parts for your vehicle repair. It's possible that you aren't aware, but Nissan Micra wreckers can be of assistance. They provide excellent options that can save you money, time, and energy.
You might be wondering, how is this possible? Many people believe that car wreckers offer inferior parts. But in reality, this couldn't be further from the truth. Contrary to popular belief, Micra wreckers offer numerous benefits. Not only are you getting a more affordable rate, but you're also getting better value for your money. This is an opportunity you wouldn't want to miss.
Today, we'll discuss the reasons why you should consider purchasing Nissan Micra auto parts from wreckers. We'll also provide tips on how to locate reliable ones in and around Brisbane. Let's dive right in.
Top Reasons To Choose Used Car Parts From Nissan Micra Wreckers
Don't be fooled by the false idea that wreckers are not a practical option for your spare part needs. Nissan Micra wreckers in Brisbane, for instance, offer much more than just inexpensive parts. If you haven't experienced their amazing benefits yet, here's what you can expect. You will be amazed by what you've been missing out on.
Quality Used Parts
Just because a vehicle is wrecked, it doesn't mean its parts are junk. Auto wreckers go through used car parts and check which ones are usable. At Total Parts Plus, all parts are cleaned, tested, and inspected by our quality controllers. Therefore, this ensures that only good quality Micra secondhand parts make it to our shelves.
Compatible Parts
One important consideration when buying used car parts is ensuring that they are compatible with your vehicle. This is not always guaranteed with brand new parts or third-party manufacturers. However, when you purchase from reliable Micra wreckers, you have access to stock parts, and compatibility is not an issue. At Total Parts Plus, a member of the largest auto recycling group in Australia, we specialize in Nissan Micra wrecking. Furthermore, we have Nissan Micra auto parts to suit your needs.
Easy to Find Parts
Total Parts Plus makes it easy to find Micra used spare parts with our efficient online search tool, Total Parts Locata. Just input the details about the part you need, and expect to get relevant results quickly. Not finding what you need? No worries. Simply reach out to us, and we'll take the weight off your shoulders.
Delivery Options
Order your used car parts online and have them delivered to your doorstep. Total Parts Plus offers three local delivery runs in Brisbane and interstate shipping every day, ensuring that you receive your purchase quickly.
Bang for your Buck
In addition to getting used parts at an affordable price, Nissan Micra wreckers offer added value. At Total Parts Plus, we have a warranty on all our products. Thus, if you're dissatisfied with your purchase, we'll give you a refund. Our good refund policy makes purchasing from us a risk-free experience each time.
Choosing Micra wreckers for your spare parts needs offers a range of surprising benefits. These include compatibility, quality, ease of finding parts, delivery options, and value for your money. Don't miss out on these amazing benefits! Choose the best car wreckers for your spare part needs.
How To Choose The Best Nissan Micra Wreckers
Looking for Nissan Micra wreckers to save time and money? Here are a few things to consider when choosing the right ones.
Check the Business Reputation and Professionalism
With many options for wreckers available, it is essential to choose the best one. Therefore, it is wise to check the reputation of the company to see if it fits your needs. It is best to choose a company with many years of experience in the wrecking industry. Total Parts Plus is a professional auto wrecker with over 40 years of experience. We have many satisfied customers who keep coming back to us for quality parts.
Consider Customer Service
Price is not the only thing to consider when choosing wreckers. The level of customer service is equally important. Therefore, it is best to compare several options until you find one that suits you. At Total Parts Plus, we prioritize our customers' needs.
Our online Total Parts Locata tool makes it easy to search for auto parts for Nissan Micra. If you have any difficulties finding what you need, we are happy to help you. We will search for the item for you and inform you once it is available. Our fast delivery, no fuss money-back guarantee, and attentive service ensure your total satisfaction.
Ensure Quality Products
At Total Parts Plus, all parts are cleaned, tested, and inspected by our quality controller. Therefore, they are guaranteed to be fit for resale. We are a leading passenger car, SUV, 4×4, and commercial wrecker in Brisbane. Additionally, we have stock parts for all makes and models, including Nissan Micra. Some of our top-selling auto recycled parts include engines, transmissions, tailgates, doors, door mirrors, headlamps, taillamps, and more.
Satisfaction Guaranteed At Total Parts Plus
We know that buying used car parts can be a stressful experience. This is why some people opt to buy brand new parts. But why pay more when you can get a good value for a lower price point?
That's why at Total Parts Plus, we aim to make it as easy as possible for you. With our seamless and convenient online purchasing system, you can easily find the parts you need. Most importantly, you have them delivered straight to your doorstep. Plus, we offer a warranty on all our products, ensuring your satisfaction.
Don't hesitate, visit our website today and use Total Parts Locata to start your search. Buying car parts has never been so stress-free. If you need any assistance, please feel free to contact us by phone or email.
To start your search for Micra autospare
 parts, visit our website and use our Total Parts Locata tool. Contact us by phone or email if you need further assistance. We are looking forward to helping you soon!