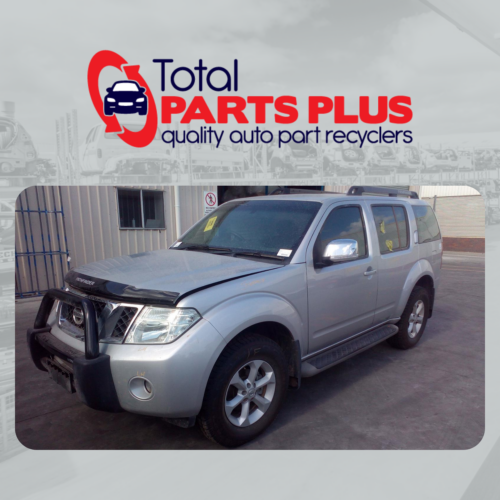 ---
Nissan Pathfinder Wreckers – Top Quality Nissan Pathfinder Used Spare Parts
Nissan Pathfinder wreckers can make a huge difference in your budget and overall satisfaction. This is why when you encounter problems with your car, it is best to choose a reliable wrecking company that can provide you with the quality of service you need.
But the big question is, how can you find the right one you can trust?
And most importantly, why should you consider going to Nissan Pathfinder wreckers for used car parts instead of buying brand new spare parts?
We will answer these questions – and more – so keep reading to spare yourself from an expensive mistake.
Nissan Pathfinder Wreckers – Are They Worth It?
The Nissan Pathfinder is a great vehicle overall. The interior is spacious and top-notch, equipped with a fantastic infotainment system and safety features to give you peace of mind.
As for the fuel economy aspect of this 4×4, it's above average, which makes it an economical choice. So, it's not surprising to find this vehicle on the streets, as not only is it sturdy with a robust engine, but it's fuel-efficient, as well.
Most Pathfinder engines and key components should last for several years. But in the event that you need to get your vehicle fixed, the smarter option is to go to Nissan Pathfinder wreckers people trust. They offer the best deals for auto recycled parts and even with a warranty, so it is risk-free and budget friendly.
However, we caution you into heading over to just about any Pathfinder wreckers. Car wreckers are not created equal. Therefore, scrupulous research is a must to make sure you get your money's worth.
Once you have found the right professionals to get used Pathfinder parts from, you are golden. Not only are their products dependable and high-quality, but you can expect a superior level of service from them.
The truth is that all parts break – whether brand new or recycled. This is why it is a no-brainer to choose a more cost-effective option while having that guarantee that you are covered by a dependable warranty.
Now, it is just a matter of knowing what your best options are for a Nissan Pathfinder spare parts shop you can trust. Which brings us to the next section…
How To Find The Best Pathfinder Wreckers
As we have mentioned earlier, not all used car parts sellers are created equal. And to make things trickier, there are dozens of them around. Therefore, we have created this guide to help you choose the best one you need.
1. Reputation
This is always the first thing to look for when deciding among several options for car wreckers in town. You want to make sure that you choose one with a proven track record from other customers.
Total Parts Plus has been around for decades, providing quality auto recycled parts for all makes and models of vehicles including the Nissan Pathfinder. We have many repeat customers and new clients that come to us for used car parts.
With our solid reputation as one of Brisbane's leading passenger car, 4×4, commercial and SUV wreckers you can expect the finest level of service that is second to none.
2. Industry Expertise
You don't want just any car wrecker for your needs. A professional expertise is a must when you want to make you get value for money. This is why it requires extensive research when it comes to finding the perfect wreckers to trust.
At Total Parts Plus, we have industry experts who are always ready to assist you with your needs. You can ask us about a particular issue your vehicle is experiencing and recommend the best car part to fix the problem.
Moreover, we have professional auto wreckers who can help you find the right part if you are having problems locating one. All our used car parts are in excellent working order and suitable for resale, so they are good as new – a smarter choice than more expensive brand new car parts.
3. Convenience
We are all busy people, and we understand the dilemma of getting your vehicle fixed ASAP. But at the same time, we know shopping around for a suitable car part takes time.
Total Parts Plus, offer all the right car parts under one roof. From transmissions to engines and car doors and power door window switches, we have it all. We have a large inventory of stock for all makes and models at our fingertips.
We have three local delivery runs in Brisbane, as well as interstate shipping schedules every day for your optimum convenience.
Nissan Pathfinder Wreckers Like No Other
The tedious task of dealing with vehicle problems and shopping for the right replacement part can be stressful and expensive. However, Total Parts Plus offers a more budget-friendly and reliable option through auto recycled parts.
Every car part has been cleaned, inspected and tested thoroughly to ensure the highest level of quality and performance.
Most importantly, our products are backed by a warranty. If for some reason you are not satisfied with our products, you can reach out to our friendly customer service representatives and get your money back – no fuss, quick, and simple.
With all these things in mind, you get your money's worth. This is why we have numerous repeat customers who have been with us for several years, as well as dozens of referrals. But don't take our word for it – we encourage you to visit us today and see for yourself the level of service we provide that is worth every time and money spent.
Give us a call for your enquiries or send us an email to learn more about our products and services. Alternatively search parts now using our Total Parts Locata.
Be sure to check out our Facebook page, as well, to get updates on new products and arrivals on our site. We hope to serve you soon!