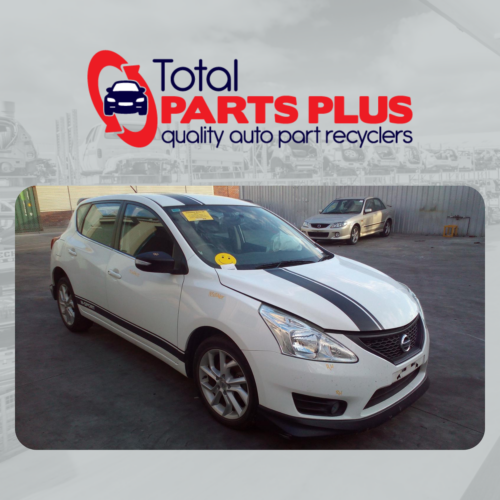 ---
Nissan Pulsar Wreckers – Nissan Pulsar Used Spare Parts Supplier
Every vehicle owner wants only the best for their car – and this is how Nissan Pulsar wreckers can help. If you want a reliable car part while at the same time not breaking the bank, then this is what Pulsar wreckers can deliver.
Who knew cheap and high-quality can go together perfectly?! By ensuring you of the finest level of quality with every spare part you purchase – and at a price that fits your budget – your total satisfaction is indeed guaranteed.
But how can you find the best Nissan Pulsar wreckers Brisbane owners recommend? What criteria should you look for? Here are the key features to consider that can save you time, energy and money.
What's The Best Nissan Pulsar Wreckers
Nissan Pulsar is a dependable family car. The engine is decent and you can opt for a 1.5-litre diesel that is just right for city-driving or long-distance travels. It is also relatively easy to maintain and won't give you a lot of headaches to own one.
But sometimes, things just break. And no matter how durable your car is, it can go through issues during the course of its lifespan. This is why you need to make sure that you go straight to the best Nissan Pulsar wreckers for your needs.
Just as there are many dealerships in town, so there are also dozens of car wreckers claiming to be the best in what they do. But how can you be certain that it's not all talk?
Look for the following features before making a final decision.
1. Professional Experience
The length of time in the business including years of professional experience are great determiners when it comes to choosing the finest car wreckers in town.
Total Parts Plus has over 40 years of experience in the car wrecking industry, with industry-trained staff to attend to your needs. We are a family-owned business that specialise in Nissan Pulsar spare parts.
When you need assistance in finding the right car part, you can easily get the help you need from us. We also have an online search function on our website, where you can search for parts online. It's that convenient and efficient.
Not finding the one you need? This brings us to our next point…
2. Friendly And Helpful Staff
Say you have been searching for a while and not finding the parts you require. Or perhaps, you are not even sure what to buy.
These are difficult questions that can put anyone in a dilemma. However, we take the stress off of you by providing you with quick, reliable, and exceptional service you want. As Nissan Pulsar dismantlers, we have a huge inventory database of parts in our store.
But not just any part…
All of these parts are cleaned, inspected, and tested by our experienced quality controller. We also make sure that our staff attends to your needs and questions, so you can rest assured that the item you purchase is indeed worthy of your time and money.
3. Reputation You Can Trust
We have a number of used Nissan Pulsar parts for sale that cater to your needs. In fact, we have a massive inventory of stock on site and access to stock Australia wide. This is what makes us one of Brisbane's leading SUV, passenger cars, and commercial vehicle wreckers.
Total Parts Plus is also a part of Australia's largest auto recycling group and a Capricorn-preferred supplier. We have stock parts of all makes and models and various auto-recycled parts transmissions, engines, headlamps, guards, power door window switch, doors, and tailgates, to name a few.
If we don't have the part in stock we will track it down for you and take the stress out of finding the part you need. This is our pledge and the reason why we have many repeat customers who walk away feeling satisfied with their purchase and their money's worth.
4. Peace Of Mind Guaranteed
When you purchase from a car wrecker, you want to make sure that you have made the best decision. This is why we offer a no-fuss money-back guarantee to all items we sell. If you are not satisfied with the item for whatever reason, please reach out to us, and we will give your money back. No questions asked.
We are confident about every item we offer, this is why we only want what is best for our customers. Along with a warranty and guarantee, we also provide a timely delivery of your orders. You can simply expect the product to reach your doorstep at the exact level of quality you expect it to be.
Nissan Pulsar Wreckers You Can Trust
Our mission is to deliver the highest quality of products and services to all our customers. This has been constant in our business operations since we started, and it is why more and more people continue to come to us for their auto spare parts needs.
Please feel free to search parts using our Total Parts Locata or give us a call for professional assistance. We also have a Facebook page to keep you posted on new products arriving in our shop, or reach out to us via email for your enquiry. We are delighted to serve you soon!