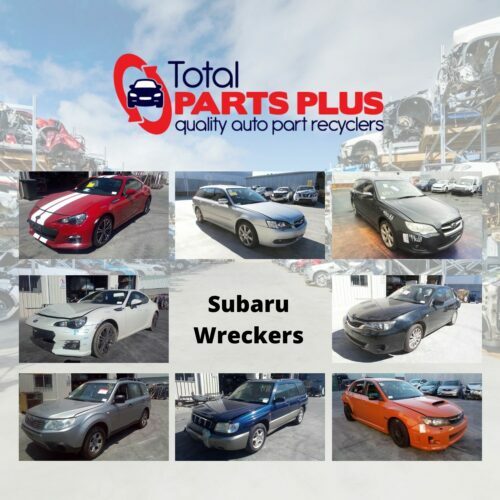 ---
5 Practical Reasons to Buy Car Parts from a Subaru Wreckers
Talking at a Subaru Wreckers when you are in desperate need of spare parts can be a life lifesaver when you are in a pinch.
Perhaps your car's engine just stopped working or there is a specific part that needs to be replaced…
As you know buying new car parts is very expensive and these parts will also eventually break down. 
So, it's a no-brainer to give us a call at Total Parts Plus.  We are a reputable car wreckers that sell quality used Subaru parts that work just as well as new – and at a fraction of the cost!
If you haven't been already, here are 5 practical reasons why you should pay your Subaru wreckers a visit and buy your spare parts there instead.
5 Reasons You Should Buy From A Subaru Wreckers and Car Parts Seller
Owning a car is a huge responsibility. And a big expense at the same time.
Car parts break, they need replacement, and at times, it is not too easy to find the perfect spare parts when you need it the most.
Fortunately, there are reliable wreckers Brisbane folks can count on for buying the right auto parts they need. This is why it's important to keep in mind these top 5 reasons why you should check out your local wreckers today:
1. You are working with experts.
When you head over at a reputable wrecker, you can be sure you're dealing with people who know what they're doing.
For instance, Total Parts Plus is Brisbane's leading wrecker. Made up of industry trained staff, you can count on the most efficient, quickest, and outstanding service from the city's professional auto wreckers.
In fact, we are one of Brisbane's leading passenger car, suv, 4×4 and commercial wreckers. Moreover, we are a part of the largest auto recycling group in Australia with 40 + years of experience in this field.
We walk our talk in everything we do.
2. Trustworthy wreckers have a proven track record.
When buying used car parts, you want to be sure they're not only cheap – but also obtained from a reliable source.
This is why you want to make sure that the company you are dealing with has an excellent reputation from their previous and existing customers.
As a family owned business for over 4 decades, Total Parts Plus has an established record with clients and customers in and around Brisbane.
You can count on quality products and customer service that we provide.
3. Your one-stop shop for the spare parts you need.
How would you like to head over to just one spare parts shop and find exactly what you have been looking for?
Stress-free, right? This is why it makes perfect sense to go to a reliable wrecker with a huge inventory database to supply you with the used car part you want.
Total Parts Plus got you covered for all your spare parts needs.  We stock spare parts for a large selection of well-known Subaru Models, including but not limited to:
BRZ

Forester

Impreza

Outback

XV
Please click here to see what cars we currently have on site.
With stock arriving daily and stock parts of all makes and models in our shop, we are Brisbane's largest professional auto wreckers.
And as a Capricorn preferred supplier, you can count on the finest quality service you deserve.
Additionally, we also have some of the top selling auto recycled parts for Subaru models such as:
Headlamps

Engines

Door mirrors

Doors

Tailgates

Transmissions

Guards

Taillamps

And power door window switch, among many others!
4. Convenient and efficient way to find spare parts.
No time to head over to the spare parts shop?
That's okay. You can search out online Total Parts Locata for the specific car part you need.  With a huge inventory database, you can definitely find the item you wanted for your vehicle.
Also, we offer three local delivery runs in Brisbane and interstate shipping every day. We cater to clients in Queensland, Coopers Plains, as well as nearby areas.
5. Risk-free and value for your money.
Most importantly, professional auto wreckers give you a bang for your buck.
Total Parts Plus, for instance, offer a warranty and a no fuss money back guarantee on every product.
Thus, if you are dissatisfied with what you purchased, you can get your cash back without any problem.
Just keep in mind that strict quality control is implemented in our shop. In fact, all car parts are cleaned, inspected and tested by our experience quality controller. So, before they even make it on the shelf, they go through intensive inspection for your peace of mind.
Your Leading Subaru Wreckers in Brisbane
Ran into engine trouble with your vehicle?
Need the right spare part and no time to wait?
Total Parts Plus can help you out when you're in a pickle! Have a look at our website and give us a call today to get the fastest and most reliable solution you need.