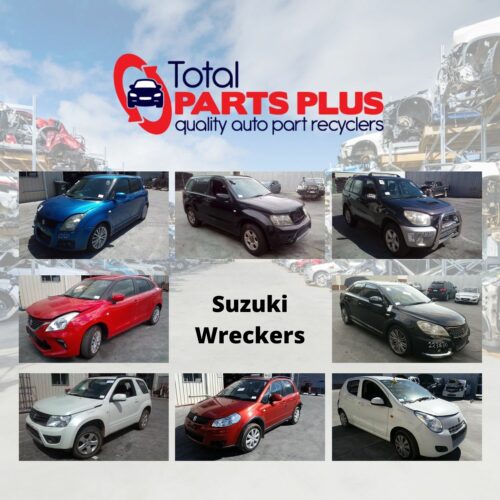 ---
5 Things to Remember When Choosing the Best Brisbane Suzuki Wreckers
In Brisbane, you'll find dozens of Suzuki wreckers. But while they may offer the same thing, these wreckers are not created equal.
There is always one that stands out above the rest – and it is up to you to find out the best wreckers Brisbane has to offer. So, the question is: How can you find the right wrecker that can provide you with impeccable service and top-notch products?
Before you head over to just about any wrecker to buy spare parts for your vehicle, let's take a look at these 5 key pointers to keep in mind when selecting your Suzuki wreckers.
5 Features of the Best Brisbane Suzuki Wreckers
For some unfortunate reason, you find yourself stuck on the road because your Suzuki car's engine just failed. When you need car parts to be replaced to get your vehicle up and running, it does not necessarily have to be brand new ones.
Practically speaking, both brand new and quality used Suzuki parts break down. The only difference is that the latter is a fraction of the cost of a brand new auto part.
Both can last long – and it is only a matter of choosing the best Suzuki wreckers and car parts dealer that you can rely on for your needs.
How can you find the right used parts seller in Brisbane? What should you consider when scouring the internet for the best wrecker that you need? Here are 5 things to think about.
1.
Credibility
As you visit various auto recycled parts sellers' websites, you need to zero in on a very important factor: Credibility.
What do customers say about the wrecker in question? How does their reputation and background compare with the rest?
Total Parts has been in the car wrecker industry for 40 years – and counting. As part of the largest auto recycling group in Australia, we are one of Brisbane's leading passenger car, SUV, 4×4 and commercial wreckers.
Our family owned business is here to serve you by providing top-quality used parts for your Suzuki vehicle.
When you need professional auto wreckers to help you out with your concerns, we are here to get your vehicle back on the road in no time. This is our promise and guarantee to all our clients as we highly value their time and resources.
2. Wide Inventory
Won't you rather go to just one shop where you can find all the car parts you need for your vehicle?
This will save you time rather than stopping by at several stops to buy different auto parts.
At Total Parts Plus, we offer a huge inventory database of car parts for Suzuki vehicles. Some of the top selling auto recycled parts for Suzuki models are:
Door mirrors

Taillamps

Headlamps

Tailgates

Transmissions

Engines

Power Door Window Switch

Doors
With new stocks arriving daily and stock parts of all makes and models available, we are your one-stop shop for all of your quality used Suzuki parts.
3. Professional Services
Next, you need to take into account the professionalism of the staff.
Does the wrecker follow a system that ensures the highest integrity of all products sold?
For instance, Total Parts Plus has industry-trained staff that ensures the finest quality of every car part sold to our customers.
We follow a stringent process to guarantee the best performance of our products. In fact, all parts are cleaned, inspected and tested by our experienced quality controller.
Our professional auto wreckers can also assist you with any concerns or questions you may have about our items on shelf.
4. Wide Coverage
Are you situated outside of Brisbane?
Or perhaps, you are located in Coopers Plains or Queensland and looking to buy the best Suzuki car part for your vehicle.
No matter where in these locations you may be, Total Parts Plus is more than happy to serve you.
Furthermore, we have three local delivery runs in Brisbane and interstate shipping every day. Simply search our online Total Parts Locata to find the product you need, then we will deliver this at your doorstep – fast and easy!
Most importantly, we offer a warranty and a no fuss money back guarantee to all our products. We stand by the quality of all items on our shelves, so we ensure your total satisfaction with your purchase.
5. Convenient and Fast
And lastly, you want to make sure that the wrecker provides a convenient and seamless experience for you.
From the moment you step inside the store (or check their website), you want the buying process to be quick and straightforward.
As a Capricorn preferred supplier, Total Parts Plus guarantees the best experience for all our customers.
We stock spare parts for a large selection of well-known Suzuki models, including but not limited to:
Swift

Grand Vitara

Vitara

SX4

Kizashi
Do you have a different car make or model? Click here to see what cars we currently have on site.
The Leading Brisbane Suzuki Wrecker You Can Trust
Having your Suzuki car break down while on the road is a stressful experience.
Fortunately, there are Suzuki wreckers nearby to help you with your urgent concern.
Total Parts Plus is here to provide you with a quick, efficient, and convenient way to find the perfect spare part for your vehicle.
Please visit our website to learn more about our products and services – or give us a call to discover how we can help you best.