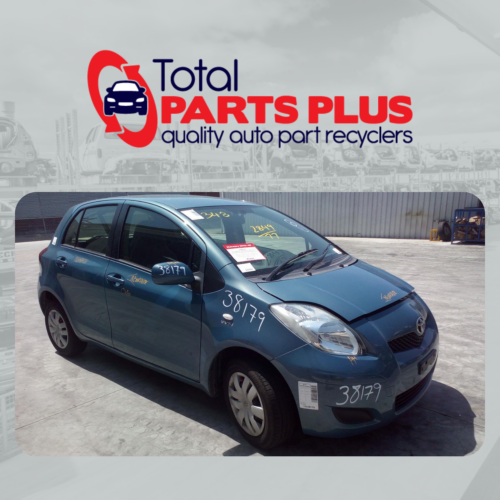 ---
Toyota Yaris Spare Parts – Toyota Yaris Wreckers
Compact, sturdy, and eye-catching, the Toyota Yaris is a stunning and practical first car for most people. It boasts numerous features such as a stylish cabin, forward collision warning, Apple CarPlay, and decent seating space that's perfect for couples, small families, or solo travelers.
Built to last for a long time, the Toyota Yaris offers the best value for your money. But when one of the parts breaks down over time, you are left with two options: Buy a brand new replacement part or choose a used car part.
While most people assume that brand new is always the best choice, it's not always the most practical option. In fact, there are used car parts sold by trustworthy and professional auto wreckers that are just as good! It is only a matter of choosing where to go, so you can be certain to get the best bang for your buck.
What To Look For In The Right Toyota Yaris Wreckers
In Brisbane, there are dozens of auto wreckers claiming to be the best. But when it comes down to experience and expertise, it may be tricky to find the right one you can trust.
Here are some factors to consider when in need of the best professional auto wreckers to trust for your Toyota Yaris.
1. Professional Experience
The number one thing to look for in an auto wrecker is professional experience. Choose a company that has been in the business for many years, so you can be sure of their expertise.
Total Parts Plus is a family business with over 40 years of experience in the industry. We have industry-trained staff and professional auto wreckers that can guarantee you of the best service you need.
2. Wide Selection Of Products
It would be more convenient and efficient for every buyer to simply go at one shop and find all the auto parts they need. This is why if you could find Toyota Yaris wreckers Brisbane owners trust that has a massive inventory of products, then it definitely works to your advantage.
At Total Parts Plus, we guarantee you of finding the perfect auto parts for your needs. We have a massive inventory of used car parts that have been cleaned, inspected, and checked by our professional quality controllers.
Thus, we make sure that before any item reaches our shelves, they have passed our strict standards for your optimum satisfaction and value for your money.
3. Warranty On Items
Sometimes, things just don't work out with some purchases, and we understand that. This is why if for some reason our product did not meet your standards, or you are dissatisfied with your purchase, you can contact us and we will send you your money back – no questions asked.
All of our products are backed by a warranty, which is another reason why many of our customers trust us. We place high regard on every item we sell, so we make sure that you are also satisfied with what you buy from us – and our warranty is proof of that.
4. Convenience
Most importantly, you want to have the option to buy the item even when at the comfort of your own home. When you are too busy to come to the store, having the chance to search for the item online and get it delivered to your address is a huge plus.
Total Parts Plus makes the buying process seamless for all our customers. Just search for the item you need through our Total Parts Locata, then you may opt to have the item delivered at your doorstep.
We currently have three local delivery runs in Brisbane and interstate shipping everyday. Among the items we have on stock are:
Engines

Transmissions

Tailgates

Doors

Door Mirrors

Headlamps

Taillamps

Guards

Power Door window switch
We specialise in Toyota Yaris used parts, so you can be certain to find just the right one you need.
Total Parts Plus – Expert Toyota Yaris Wreckers You Can Trust
When it comes to convenience, efficiency, and value for your money, there is nowhere else to look for but at Total Parts Plus. We carry various parts of different makes and models including Toyota Yaris, so you can most definitely find the part you require.
Have a look at our website and search for parts using our Total Parts Locata. Don't forget to visit our Facebook page to get updates on new arrivals for stocks. See you there!