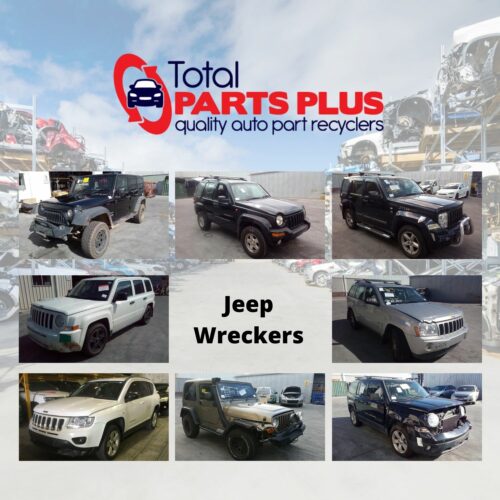 ---
4 Reasons To Get Your Spare Parts From Jeep Wreckers
When your Jeep is showing some signs of wear and tear, it may be worth considering going to a trustworthy Jeep wreckers to help bring your vehicle back into good shape.
After all, these signs of age can cost you more money down the track when you put off necessary repairs and replacements. Reliable wreckers are a great option for a Jeep owner to consider to help improve the condition of their vehicle at a fraction of the cost.
So, if you're still unsure why it's worth getting Jeep used parts from wreckers, here are 4 reasons you need to know. With the help of a reliable auto recycled parts supplier, your Jeep will be back on the road in a better condition in no time.
How Reliable Jeep Wreckers Can Help
It is always a hassle to be driving your vehicle only to experience problems along the way. In some cases, you may not even be able to get your Jeep out of the garage as it is already malfunctioning.
Generally, Jeep is a trustworthy brand that has an excellent reputation for being one of the most powerful vehicles in the market. However, it is inevitable for problems to arise, especially if your vehicle has several years of usage.
Thus, when repairs are in order, you need to make sure to find the right used Jeep parts specialist to help you source the second hand part you need and spare you from the expense of buying brand new.
This is why the practical choice for finding car parts is from the reputable wrecker. By doing so, you can cut back on your expenses as well as ensure the good quality of the replacement parts that you buy.
Your Jeep wreckers of choice can be a great help when repairs are needed for your vehicle. These are the 4 big reasons to choose the right wrecker for your Jeep repair needs.
1. Decades Of Professional Experience And Expertise
When you need the quality used Jeep parts that will work for your needs, then you can most definitely expect this from a trustworthy wrecker.
Total Parts Plus has over 40 years of experience in the industry. We pride ourselves in being one of Brisbane's leading passenger car, 4×4, commercial vehicle, and SUV wreckers.
As a family-owned business, we make sure to maintain our reputation as professional auto wreckers in the area. Furthermore, we are Capricorn-preferred suppliers, so you can guarantee the highest quality of used car parts we offer.
2. Knowledgeable Staff
Got a question about the right jeep spare parts to buy? You can count on a reliable wrecker to answer it for you – and even help you choose what you need for your particular concern.
For instance, Total Parts Plus has industry trained staff to assist you with your needs. Ask our experts regarding the correct parts to buy, and we will help you out right away.
We stock spare parts for a large selection of well-known Jeep Models, including but not limited to:
Click here to see what cars we currently have on site. Find Cars.
3. Extensive Selection Of Used Jeep Spare Parts
Jeep wreckers Brisbane are the best place to find spare parts in good condition and at a reasonable price.
In fact, you can expect to find exactly the auto recycled part you need from our huge inventory database. Simply search our online Total Parts Locata, and you should be able to find stock parts of all makes and models.
We have stock arriving daily, so we are your one-stop-shop for all the Jeep used parts that you need.
Among the top-selling auto recycled parts we have for Jeep models are:
Headlamps

Guards

Taillamps

Engines

Tailgates

Doors

Power door window switch

Door mirrors

Transmissions
Most importantly, all car parts are cleaned, inspected and tested by our experienced quality controller. So you can be sure that everything we have on our shelf is in pristine condition to give you the best bang for your buck.
4. Customer Satisfaction Guaranteed
Lastly, you want to make sure that every dollar you pay is worth it. Fortunately, this is exactly what you can get from a dependable car wrecker.
With Total Parts Plus, you have all the amazing benefits that are worth your money. We offer a warranty for all our products, as well as a no fuss money back guarantee for your peace of mind.
If you prefer to buy from us online, we can ship it to you quickly. We have three local delivery runs in Brisbane and interstate shipping every day. Thus, you don't have to wait too long until your order is delivered right at your doorstep.
Total Parts Plus – Your Jeep Wreckers Of Choice
At Total Parts Plus, we place high regard on our customers' needs and satisfaction. Therefore, we make sure that from the moment you step into our sales office or go to our website you have every opportunity to successfully find the used car part you need.
As part of the largest auto recycling group in Australia, you can expect to get the best value for your money by choosing our service.
We cater to clients not only in Brisbane but also in Queensland and Coopers Plains. So, if you need Jeep used parts – and fast – please visit our website or give us a call today for the fastest assistance to your needs.